Leeds production of 'Into the Woods Jr' features five GRC students
Production Feb 25-27 and March 4-6 at Leeds Center for the Arts
Lots of hard work and long practices have been put into Leeds Center for the Arts' very own production of Into the Woods Jr.
This adaption of James Lapine's Tony Award-winning musical features all your favorite fairytale characters, including Cinderella, Little Red Riding Hood, Jack (and his beanstalk), and the Witch.
The retelling of these classic Brothers Grimm fables features a cast of 21 young Central Kentucky actors. The musical fairytale focuses on the wishes and choices we make.
Director Steve Crosby says Into the Woods is one of his favorite musicals. "The creativity of weaving multiple fairytales together is amazing," he says. "I've worked with many groups of students over the years and this is definitely one of the most talented ones."
The play features five GRC students: Ella Cooper, a senior who is playing Cinderella; Addy Reed, a senior who plays the Witch; CJ Wesley, a sophomore, playing Little Red Riding Hood; Grace Owen, freshman, playing Jack's mother, and Trent Conboy-Holden, freshman, playing the Mysterious Man.
GRC senior Addy Reed encourages everyone to come see the show because "it's  very whimsical and elegant, but also very dark and mysterious. It's a musical about fairy tales being put together with a twist."
The play opens Friday, Feb. 25, and runs over two weekends. Shows are at 7:30 p.m. Feb. 25-26 and March 4-5, and 2:30 p.m. Feb. 27 and March 6.
Tickets are available on the Leeds Center for the Arts website.
"The show is special because the cast is so small that everyone has to work very hard to build the show," Addy says. "The show focuses on timing, so everyone must do their part to make sure everything is precise."
If you're interested in supporting young actors from Central Kentucky, our local theater, Leeds, and some of our very own students here at GRC, make sure to buy your tickets to see Into the Woods.
"The level of performance is so high I often forget I'm working with middle and high school students," says Crosby. "It's a must see!!"
Leave a Comment
About the Contributor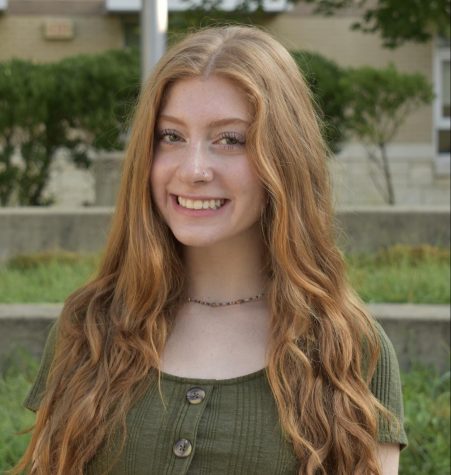 Sofia Watts, Multimedia Staff
Sofia is most afraid of not succeeding in life. She thinks Whales are better than Goldfish because Goldfish are overrated. If she were a type of shoe,...