Winterguard grows in numbers, skill
Program has three competitive groups
Flags wave. Colors soar and shimmer.
The Winterguard is working diligently on their routines.
Over the past few years, the GRC Winterguard program has experienced an impressive amount of growth in numbers and skill.
"One thing I am really proud of is the growth in quantity over the past two years," said Winterguard coach Emily Cook. "I know before I got to GRC they had been working really hard to develop numbers in the program."
The winterguard program is made up of three teams – varsity, junior varsity, and cadet. Each team competes during the winter season. They work to improve on their individual skill set, but also focus on growing as a whole.
"In the past two years, we have continued to develop our recruitment efforts and are now able to have three different winterguard programs that service approximately 45 students," Cook said. "Additionally, we have been able to promote our varsity program to a class with a higher skill level."
Winterguard offers an opportunity to prepare for the fall season for GRC Colorguard and the Marching Band season.
As the Winterguard season treks along, the team hopes to continue to gain new advances and grow.
"For our varsity program, I hope to see them be able to develop new skills that they wouldn't already know," said Cook. "I also want to be able to see them develop as performers throughout the season. For our Junior Varsity and Cadet programs, I hope they develop the basic skills of the activity while enjoying performing and making new friends."
Improvement has certainly happened for the Winterguard team. For the past three years the team competed in class Scholastic A2, but this season Winterguard is stepping up to Scholastic A.
Additionally, because of their high score in late February, the junior varsity was recently promoted from Regional A2 to Regional A.
"Over the past five years of being with GRC Colorguard I've seen us grow tremendously," said Amanda Skipworth, a senior member of the program.
Last year, the team was able to participate in Winterguard International, a first for the members of the Winterguard team. They were able to advance to the semi finals, finishing their season off on a forward-looking note.
"Our growth dates back to the hard work and dedication during the marching band season," said Skipworth.
The team puts in the work year round and grows together.
"Being a part of this Winterguard," said Skipworth, "is more than being a part of a team; it's a family."
View Comments(1)
About the Contributor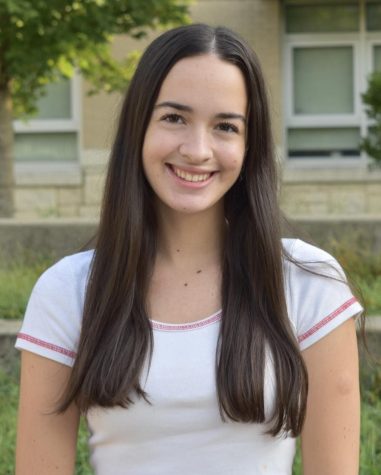 Sarah Johnson, Managing Editor
Sarah is most afraid of spiders. She thinks Whales are better than Goldfish because they just have a much a better flavor. If she were a type of shoe, she would be  Christian Louboutin red bottom heels....