GRC students receive EMT certification through school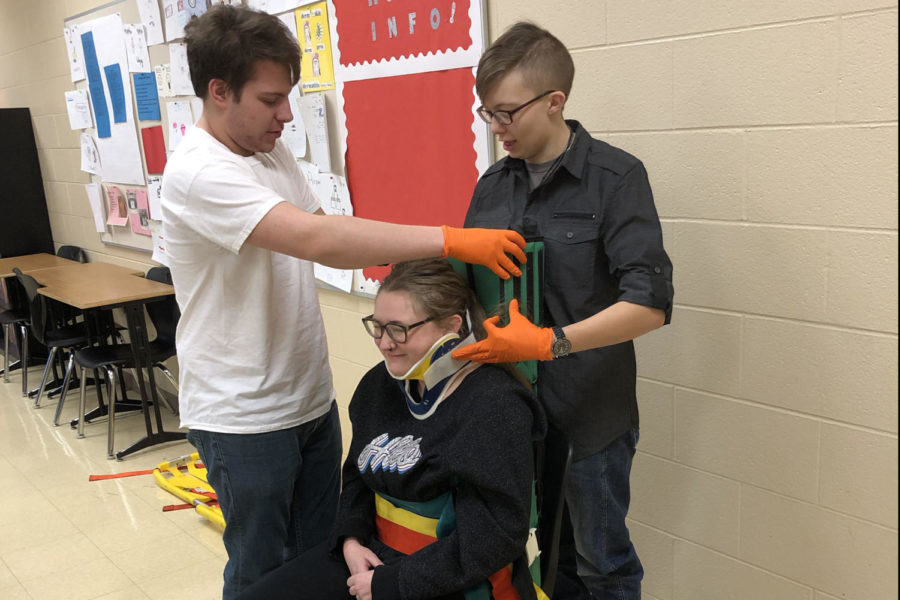 Next to creating a life, the finest thing a man can do is save one."- Abraham Lincoln. 
Being a first responder isn't easy. It can be stressful and full of life-altering responsibilities. Loving the satisfaction and fulfillment of helping people, some students at GRC are choosing to become EMTs. 
Three seniors – Hannah Hisle, Jaylan Homan and Dillon Martin – will graduate with an EMT certification.
 Dee Wooley, the EMT instructor here at GRC and a retired paramedic, helps guide students through their
learning experience in becoming an EMT.
This school year is the first year students are able to choose this career opportunity.
"The year has been a learning curve to myself and the students," says Wooley. "They have all been wonderful in every aspect." 
EMTs respond to emergencies such as car accidents, violent traumas, heart attacks, childbirths and falls. They perform basic, noninvasive interventions to stabilize patients and transport them to receive further medical care. 
"I plan on being an EMT all throughout schooling until I become a flight paramedic or a traveling nurse," says Homan. 
In order to get an EMT certification, you need 150 hours of classroom and ride time, pass a hands-on test and a written test, and maintain an 80 average overall in the class. 
"Some advice I would give to students thinking about being in this program is to be dedicated and actually do your homework and study," says Hisle.
Some of the hands-on learning activities that the students do include:
·     Patient assessment 
·     Trauma and medical
·     Traction splint
·     Airway and airway control
·     C-spine immobilization 
·     Long spine board
·     Oxygen administration
·     Banging
·     Stop bleeding
·     Eye wound care
·     Short spine immobilization
All three students agree that the best part of the program is the relationships built. 
"What I like most about the program is all the hands-on skills and the people you get to work with," says Hisle. 
"I really like the relationships built along the way," says Martin.
After graduating, students with an EMT license will have the option of furthering their education to become a
paramedic, a professional trained to provide advanced emergency medical care.
"I plan on pursuing the fire and EMS career," says Martin. "I plan on completing this course then completing my fire training." 
Most people can go their entire career without making a life-or-death decision, and EMTs can't go a single day
without making one. 
"I hope to see more students in the upcoming years because being an EMT is the beginning step for so much more in this career and hope they have a passion in pre-hospital care as I have for the past 30 years," says Wooley.