GRC alum ready to set the 'World On Fire' with music legend Dolly Parton
GRC graduate Caleb Crosby is preparing to perform tonight with one of the greatest of all time.
After receiving his first kit at age 10, Crosby fell in love with the drums and spent time playing music for his church, local bands, and the GRC Band. As a sophomore at Belmont University, he started playing with the Nashville-based rock band, Tyler Bryant and the Shakedown.
Caleb never suspected that in the future he'd have the experience of playing the drums for the one and only Dolly Parton at the 2023 ACM Awards.
The ACM Awards will be free to stream live on Prime Video and the Amazon Music channel on Twitch today at 7 p.m. EDT.
After hosting the ACMs with Garth Brooks, Parton will close the show performing the world premier of her rock single, World on Fire, with Caleb on the drums.
"To be totally truthful," he said, "I think the news is still sinking in. It is such a cool opportunity to get to perform with such a generational icon."
Dolly Parton's search for a drummer ended as soon as her producer thought of Caleb Crosby. He was a perfect fit for the rock and roll vibe she is looking to create.
"It's a true honor to be a part of this new iteration and rock album roll out, along with her Rock & Roll Hall Of Fame induction," Caleb said, "People are going to hear Dolly in a way they haven't before."
Not only is Caleb going to be performing with Dolly Parton, but he's also going to be a part of history. This is Dolly's first ever rock album, and she has also promised this to be one of her biggest productions ever.
"Meeting her was exactly how anyone would imagine it," said Crosby. "She is so classy and kind and made a point to say 'Hello' to everyone in the band before we started. A TRUE legend."
Though Caleb is a natural at performing, it's still nerve wracking to perform with an iconic artist like Dolly.
"Of course there is always some sort of anxiety," he explained. "There are a lot of moving parts and a lot of things HAVE to go right for TV. You get one shot to get it right. The nerves come in waves, but we will be such a well oiled machine by showtime, I know we'll be ready."
For Caleb, his excitement definitely overshadows all of the nerves he's feeling.
"I'm just looking forward to the whole experience," he said. "It's such a great crew of folks — some of which I'm reconnecting with after many years. I'm really excited to share this moment with them."
Caleb will be in the presence of greatness the entire night. Of course Dolly will be there to rock the house down, but other icons like Jason Aldean, Luke Combs, Cody Johnson, and Miranda Lambert will be performing.
This isn't all Caleb has to look forward to though; he has a busy and exciting schedule for this coming summer.
"It's festival season coming up, so I'll be doing a good amount of traveling as well as some sessions in town," he said. "Plus my wife and I are moving near the lake this summer, so that will consume a good amount of my time. I'll also be taking my boy, Cruz, to the zoo, his new favorite place."
This is a once-in-a-lifetime experience for so many people involved, and not many can say an alumni from their local high school is performing with Dolly Parton at the 2023 ACM Awards.
It would be a true shame to miss out on a performance like this, and of course it's awesome to see a local make it to the big time.
As Caleb said, "People are going to hear Dolly in a way they haven't before."
View Comments(1)
About the Contributor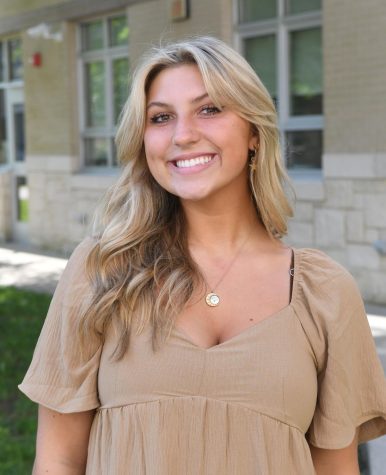 Paige Kleykamp, Features Editor
Paige would rather have Puerta Grande, because the chips are better. If she could live in a movie, it would be "Aquamarine" because she wants to be a mermaid with blue hair. A song that describes her...