Cards face the Madison Central Indians for senior night
Coming into their last home game of the season the Cardinals are set to pick up their fourth win of the season. 
It's been a year of ups and downs for the Cards. They've shown their full potential in spurts here and there. When the team is playing at the pinnacle of their potential, they can give any team in the state a run for their money. 
"We came out of the Bryan Station game with the "nose to the grindstone" mentality," says assistant coach Jordan Ray. A lot of people counted us out before the game even kicked off and that's okay. Week in and week out, our guys are going to fight and represent Clark County with pride and toughness. Madison Central is currently ranked 7th in class 6A and are very fundamentally sound. In order for us to get the win tonight, our team has to execute to perfection and be disciplined in their assignments. We have to be ready for adversity throughout the game and be ready to fight back against it."
The Cardinals come into the Madison Central matchup with a two game losing streak starting with their home loss to Laffeyette. Although the Cards offense struggled tremendously against a 2-6 Lafayette squad a week later they almost upset #4 ranked Bryan Station. The Cards defense gave the Defenders from Bryan Station a run for their money holding them to multiple fourth down drives, but eventually gave up a 30 yard field goal with 34 seconds left on the clock that gave the defenders a 9-7 victory. 
"As we've grown as a team we've certainly become a family," says senior linebacker Angus Mann. "I thought our game against Bryan Station showed that best, we showed our loyalty to each other. While we continue our growth through the next game we want to show the community the strength of the family we made. I try not to think too much about senior night, but time flies and it's all that goes through my head. It hit me the other day how we used to be the freshman class looking up to the seniors on their night (sometimes literally) and now that's who we are. It's definitely been a bumpy ride full of ups and downs, but I wouldn't trade it for the world."
The proven Cardinal defense forced two fumble recoveries last week against Bryan Station and held the Defenders offense to 86 passing yards and 193 rushing yards. Compared to the Defenders 55 tackles the Cardinals recorded 59 tackles, proving their defensive dominance.  
"The Bryan station game really showed what we can do as a team and the baseline for every week," says senior outside linebacker Zander Clark. "I think it's crazy how time has passed and it's already my last home game. I remember being a freshman at my first home game and just thinking about all the memories makes it all surreal."
Come out and support all the GRC seniors being recognized during senior night at Cardinal Field at 6:30. Kickoff is at 7:30. 
Leave a Comment
About the Contributor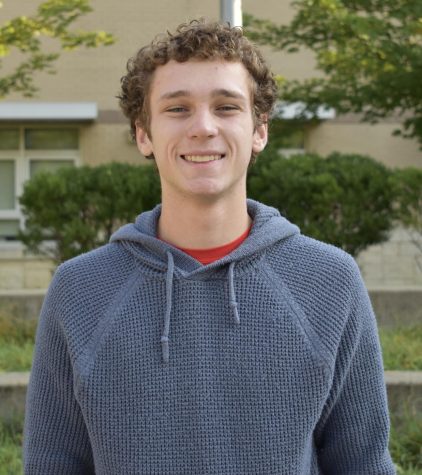 Sawyer Broeking, Sports Editor
Sawyer's biggest fear is not having someone to talk to. He thinks Whales are better than Goldfish because they are a unique combination between cheddar...