Shelby Summers featured in state DYW program beginning Thursday
A Distinguished Competition in Unprecedented Times
If there is one thing the Coronavirus pandemic has taught everyone, it is that you might have to think outside of the box on how to plan things while keeping local safety guidelines in mind.
GRC student Shelby Summers witnessed this creativity first hand. 
After winning the abnormal Distinguished Young Women of Clark County program, Shelby, GRC senior and Smoke Signals Features Editor, began to focus on competing for the unordinary state competition. 
"After I won, I found out that the state program would be virtual," says Summers. "At first I was disappointed, but then I realized I was a part of the first class to ever compete like this so I would be making history."
The Kentucky Distinguished Young Women program will take place in a totally different way this year, because of the ongoing pandemic and safety restrictions. DYW went virtual this year.
Shelby, along with 31 other young women from around the state, filmed the on-stage portions of the competition back in December.
"I was glad we were still given the opportunity to be on the Singletary Center stage," Summers exclaims. 
Once the on-stage phases were filmed, it was time for Summers to begin preparations for her private interview with the judges in January. Interviews were conducted over Zoom video conference to ensure the safety of all. 
"I had the Clark County DYW committee to help me," says Summers. "They set up mock interviews and helped with preparing for all portions of the competition."
Shelby says her biggest takeaway from this experience is that hard work pays off and the biggest challenge she faced was performing her talent, a contemporary dance to Lauren Daigle's You Say to a camera and empty chairs — no audience. 
"I have danced my whole life to an audience," said, Summers, a longtime dancer with Dancer's Pointe. "I feed off of the audience's feedback." 
Performing to no audience can be a big learning experience, which is just one of the many things DYW has taught Shelby. Another was self confidence.
"I used to hate talking to people I didn't know and it made me extremely nervous but I had to get over that fear because I had to interview with strangers and speak in front of a crowd of locals," Summers says.  "These boundaries pushed my comfort zones and I'm thankful for that because I will need to know how to do interviews whether it be for a college scholarship or a job interview." 
Shelby has not quite decided where she will attend college but is leaning toward Western Kentucky University to pursue a degree in elementary education with a minor in psychology.
The Kentucky Distinguished Young Women 2021 virtual stage program will be broadcasted for free January 21-23 at 7 p.m. at https://kydyw2021.com/ .
—
Shelby, Smoke Signals extends you a huge congratulations and wishes you all the best in the Kentucky Distinguished Young Women program.
About the Writer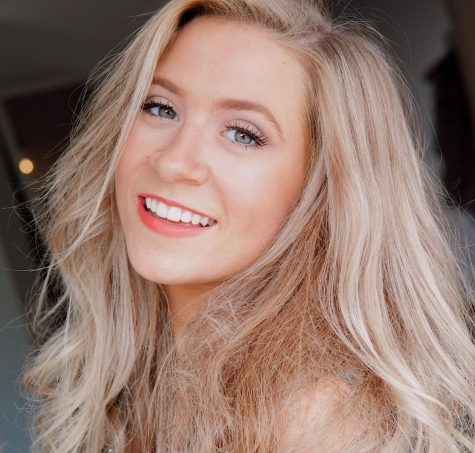 Betsy Billings, Editor-in-chief
Betsy, also known as Lil B, is a senior at GRC. Her favorite sound is Kacey Musgrave's voice and she says the best part of waking up is making her bed....