"Snow days? We don't have those in Kentucky"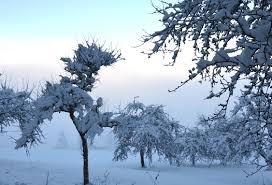 January — a time of sitting inside with a cup of hot cocoa and watching the snow fall outside your window. But Mother Nature has different plans for Kentucky. 
As the Christmas season comes to an end, the only thing a student has to look forward to is the message from the superintendent saying "School closing." However, it seems like our dreams of seeing snow on the ground will never come true. 
Some blame global warming; others blame the long range of Appalachian mountains, but most everyone can agree that Kentucky typically has warm winters. 
This month, the temperature in Winchester has reached 72° and has fluctuated from the 40s to 50s to 60s. 
Then comes that one day when the temperature drops below 32° and your hopes begin to rise. You fall asleep and dream about an entire day off, full of relaxation and enjoying the snow. You wake up and find that there is no chance of precipitation, only frigid air and large gusts of wind. 
Not only is there a lack of snow in Kentucky, but there seems to be a lack of the entire winter season. The seasons fluctuate from summer to fall to spring back to fall and so on. In Kentucky, instead of sledding on Christmas, you can go outside in shorts and play corn hole. This makes it hard to fully enjoy the Christmas and New Year's holidays.  
Some argue that missing school means short summers, that the school year will be longer and it takes away from sunny days in May. However, snow days are a special treat. As we come back to school from Christmas break, we are filled with more stress and homework. January only has one or two days off so getting a snow day out of the blue is one of the best surprises a student can get! An entire day dedicated to sleeping in and resting your mind. 
I'm not sure why Mother Nature doesn't like Kentucky, but it looks like we may never get enough snow to close school. But who knows, maybe we will get a special surprise. All we can do now is cross our fingers and hope for that lucky phone call. After all, Kentucky weather is unpredictable.