Clevenger offers students a new experience with ASL club
Language is how we connect and express ourselves to one another. Learning a new language creates a whole new world of opportunities for connection.
Ms. Clevenger has always had a passion for learning new languages, so when she heard of the American Sign Language (ASL) program at EKU, she knew it was an opportunity she couldn't pass up.
"ASL is a beautiful, expressive language, and learning it allows you to gain an appreciation of the Deaf community and culture," Clevenger said. "It also allows you to meet new friends and build relationships with people which has been my favorite part of learning ASL."
Clevenger has connected with people from all walks of life and taken part in unique experiences.
"There are so many times when I have been glad that I know ASL, but one of my favorite times has been when I attended a Deaf church service," Clevenger said. "Getting to participate in that service and meet the people there was an amazing experience."
As everyone does when learning a new language, Clevenger faced difficulties but didn't let them discourage her learning.
"I think the most difficult part of learning ASL is learning the grammatical structure of the language; a lot of it is flipped around from how the English language is spoken, so (especially as an English teacher) I struggled with that," she said. "It isn't impossible to learn though, and I encourage everyone to at least try to learn the basics."
Clevenger credits ASL for furthering her communication skills in everyday life.
"Learning ASL has benefited me in many ways, but most importantly, it has helped me become more aware of how I communicate with others," she said. "When having a conversation with ASL, you have to be focused on the person — you can't be on your phone or be looking elsewhere — so I have learned to be a more active listener when people are speaking to me."
Clevenger's decision to learn ASL eventually led to her sponsoring and teaching ASL in the first ASL club at GRC, which began this year.
"I have always been interested in starting an ASL club at a school. I talked about studying ASL at EKU during the 'Why Apply' video this year and was approached by a few students who wanted to start a club, so I agreed to help."
Clevenger hopes for students in the ASL club to grow not only in their knowledge of ASL but also in their understanding overall.
"I hope that students gain a deeper appreciation for the language and for Deaf culture as a whole, but also that they learn a language that they can use for the rest of their lives," she said. "By learning ASL, you are opening yourself up to communicating with more people and even extending your opportunities in life."
Learning a new language allowed Clevenger to meet new people, learn about Deaf culture, and eventually assist others interested in learning ASL.
"Who knows," she said, "maybe there are a few future interpreters in our building."
The ASL Club meets at 8 a.m. in room 233 every other Tuesday. The next meeting is Jan. 7. To join the Remind, text @grcasl to 81010.
About the Writer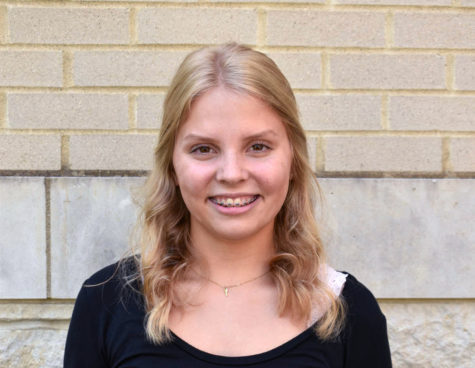 Ashlan Brookshire, Features Editor
Ashlan is a Junior at GRC. She enjoys art, reading, and listening to music. Her favorite food is grilled pizza, and her favorite color is light green.