FFA Food Baskets: 21 years of giving
Thankfulness. Family. Friends. Food. Giving. Thanksgiving is a time for people to gather and have a moment of gratitude, and to give back to others. The holiday gives you the opportunity to help and serve your community, and the FFA has a long tradition of doing that.
The FFA Thanksgiving Basket Service Project began back in 1999 when members got the idea from another county and thought it would be a good way to help the community. Since then, the FFA has helped serve hundreds of families in Clark County with a Thanksgiving meal.
"Since I've been here we always tried to do about 80 baskets," said Terra Pigg, FFA advisor. "Then the last couple of years, our executive officer team for FFA has really strived to do close to 100, and we've been able to do that for the last two years and we are hoping to do that again."
Not only has this project been helpful to families in our community, but it also has been inspiring to many of the students who help make and deliver the baskets.
"It's always a really fun experience," said senior Maddie Williams. "It's kind of humbling when you go into a home and you see how grateful they are for the food. Like they need it desperately, and it's kind of shocking because you don't think like, 'Oh this is Winchester, like this is my community, it should be great.' It's not always the best situation for everybody, but it feels good to be able to help other people in your community."
Mrs. Pigg was also able to participate in this project when she was a student.
"This was a project the FFA did when I was in school," she said. "As a student, you think you know your classmates but you don't necessarily know, or you might complain about how you don't have the newest cell phone, but unfortunately there are kids in our community who don't know where their next meal is coming from and this service project is one that we can guarantee that these students are going to have a Thanksgiving meal."
With the help of Senior Advisory, students, staff, advisory classes, and sponsors, they are able to deliver baskets all across Clark County on the Wednesday before Thanksgiving.
"We probably have anywhere from 40- 50 students come in on their day off and gather up baskets and kind of just divide and conquer, and deliver throughout the county," said Mrs. Pigg. "The FFA teachers will be here, and sometimes other club sponsors that are helping will come in, and then the Farm Bureau will help us pick up turkeys and help us deliver as well. So they will be here that morning as well."
If you want to help out with this project and give back to the community, you could do so by donating specific food items. Each box contains 2 cans of corn, 2 cans of green beans, a 5-lb. bag of potatoes, 1 can of cranberries, 1 box of stuffing, 1 can of yams, 2 2-liter sodas, 1 box of cake mix, and 1 can of icing. The turkey and rolls are donated and added later.
"It's very humbling when you go to someone's doorstep and they cry because you're giving them a basket, and they're so happy and they hug you, because you just gave them Thanksgiving," said Mrs. Pigg. "It helps you be thankful, and it sparks a giving spirit, both of which are what Thanksgiving is about."
About the Writer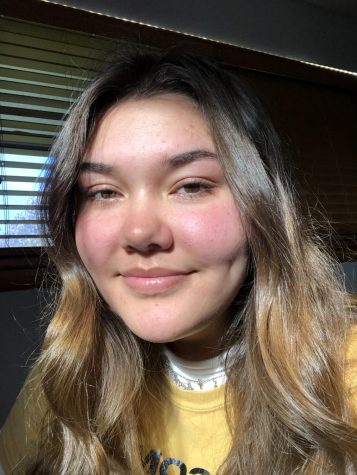 Lexi Garza, Managing Editor
Lexi, also known as Skippy thanks to her dad, is a senior at GRC. Her favorite sound is driving with her windows down while the wind is blowing into her...