Get Rowdy Crew lives up to its name
The air is full of suspense. Our hearts are racing. The energy builds as our team takes the field. The familiar chant begins… 
" C-L-A-R-K C-O-U-N-T-Y CLARK COUNTY CLARK COUNTY LET'S GO CARDS."
Our student section has really stepped it up this year under the leadership of Hunter Helderman, Eli Penichet, and KJ Rucker. They work hard to get everyone hyped up, and make sure everyone is having fun.
"I've always been a part of the Get Rowdy Crew and I just loved it," Hunter said. "Getting to lead, go crazy, and watch sports sounded pretty good to me."
The Crew has created a Remind and an Instagram, and the creation of the Pep Club has boosted student involvement. "With all this, more students have been able to get involved and be more aware about events," Hunter said. "We even did chants at a soccer game for the district championship! That hasn't happened in a while." 
Hunter and the other section leaders have done an impeccable job of giving a sense of pride in our teams, and an incredible feeling of camaraderie. No matter who you are standing next to, whether you know them well or not at all, it doesn't matter because everyone comes together to cheer on the team.
"My fellow leaders KJ and Peni, and I, have tried to stay more open minded and listen to the students," said Hunter. "We realize there are no leaders without the physical student body."
"WHO ARE WHO ARE WHO ARE WE? WE ARE WE ARE GRC!"
About the Writer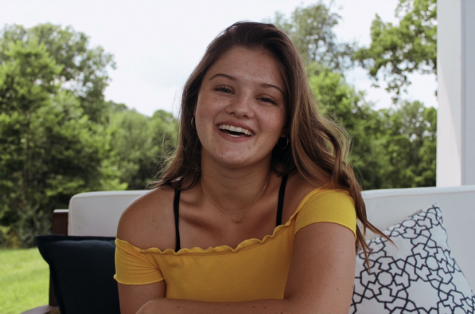 Megan Huff, Podcast Editor
Megan, also known as Meger, is a senior at GRC. Her favorite sound is thunderstorms while you're falling asleep and she says the best part of waking up...