District Championship thriller pushes Cards into Region Tournament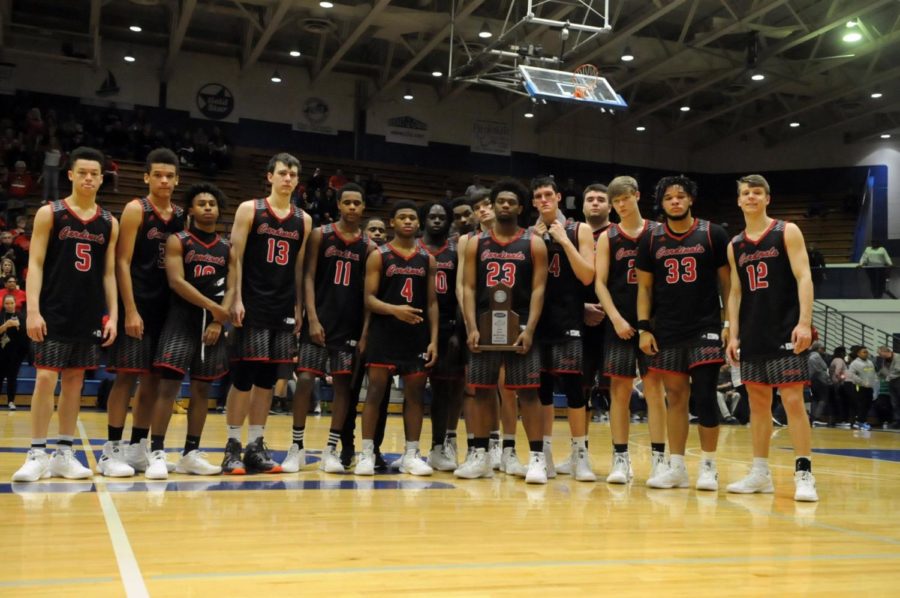 It's the District Championship. 72-72 tie, 5.6 seconds left on the clock in the second overtime.
Jared Wellman inbounds the ball to K.J. Rucker. 
Rucker dribbles upcourt, fumbles the ball, but recovers and finds Jordan Graham. 
Graham catches, he shoots… money.
This was the scene Thursday, the 21st, when the boys' basketball team took down Bourbon County for their second consecutive district title.
While the win did not come easy for the Cardinals, Graham believed in his team throughout the whole game.
"In a game like that you always have to believe you can win it," says Graham, who shot the game-winner. "No doubt can cross your mind."
The victory over the Colonels is GRC's third win over Bourbon County, giving the Cardinals a final district record of 8-0. 
The triumph over the rest of the 40th District is a huge motivator for the Cardinals as they take the next step: the Region Tournament.
"The championship was a great experience for our guys to handle the ups and downs," says Coach Josh Cook. "This time of year, it's just about finding a way to win."
The Cardinals squared off with Bracken County in the first round on Tuesday the 26th, winning 81-44.
The win pushes the team into the semifinals of the region, putting them only two wins away from playing in Rupp.
"It feels really good to be in the position we are in, but we have to remain focused on the task at hand," says Graham. "Rupp is always in the back of your mind, but you have to take it one game at a time. You can't overlook any team."
GRC will battle Scott High on March 1st for a chance to play in the 10th Region Championship.
Scott High is 19-11 and coming off a victory over Harrison County. The two teams have yet to meet this season.
The winner of the GRC-Scott game will take on the winner of Campbell County-Mason County for the title.
Two wins is all that stands between the Cardinals and their first trip to Rupp since the 2011-12 season.
64 minutes is all that stands between GRC and the Sweet 16. 
However, all the Cards may need is 5.6 seconds.