Time to Fix the Clocks, Patience Ticking Away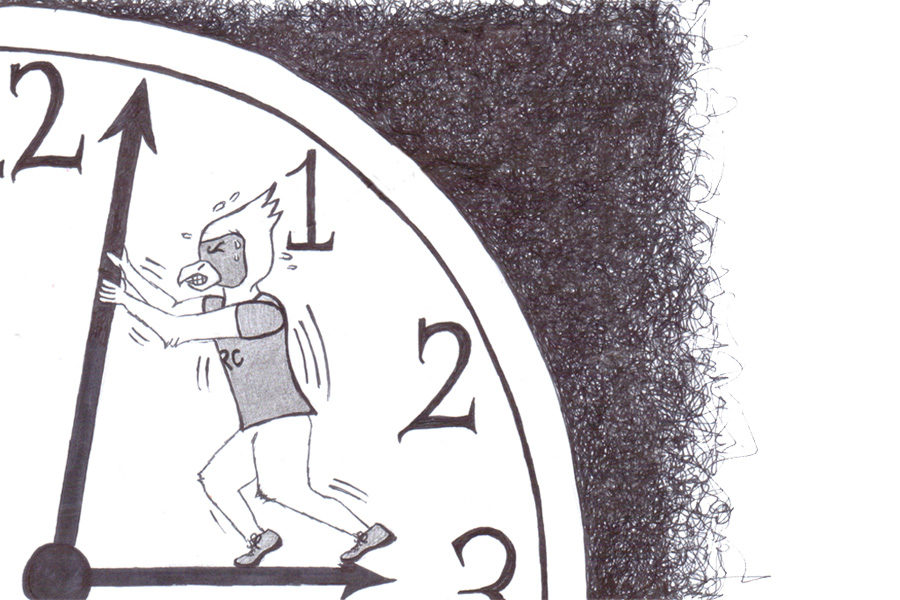 According to very extensive research, clocks have been around since before the common era.
A simple minute may seem insignificant in the grand scheme of the complexity that is our lives relative to time.
However, a minute has become a source of frustration, anxiety, and confusion in GRC.
The sync of the clocks and the bells has consistently been inaccurate for almost two whole school years.
How can we possibly be expected to learn when our attention is on the time? Will we get out of this class early or late today?
The ambiguity of the duration of our classes is causing a ferocious ripple throughout the school.
The bell has built a reputation of sounding at 3:34 in the afternoon. This is unacceptable considering that this district does not back off of education, even for just a minute.
The students may see this through rose-colored glass because they get to scurry out of class early.
There should be a more intense motivation to get this problem fixed, right? Why would the school district leaders want us getting out of class early?
Maybe because we've fallen into the habit of crediting that minute to an early start.
In the morning, the one-minute bell will often ring at 8:33. We didn't want to have to bring out our hard core research, but we have on very reliable record that one less than 35 is 34.
As students are making their way to class in the morning, the sound waves of the bell striking their ears, not one, but two minutes before their presence is due is terribly troubling.
The downfall of the bells sounding at the wrong time is that students are unsure if they are counted tardy and when they can leave class.
Does the bell decide? Does the clock, or is it up to your teacher like it clearly states in his or her syllabus that "the bell does not dismiss you, I do"?
We are confused. We are losing patience. We are on the clock for a solution.