Gibson Thrives as Only Female on Air Rifle Team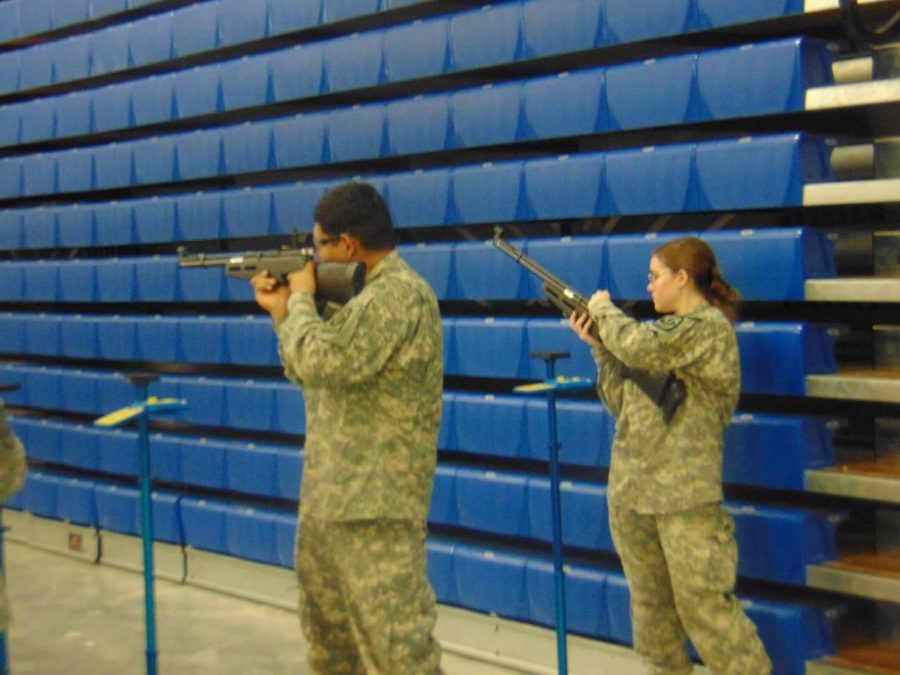 The sound of the air rifle echoes through the greenhouse as the JROTC team practices. Everyone turns to Paige Gibson, the shooter who never misses her shot.
Gibson has been a front-runner of GRC's rifle team since her freshman year.
As much as she wishes she could credit Master Sergeant Lee for encouraging her to try out, the truth is her thirst for competition is what pushed her to join the team.
"A male cadet in the class said he was going to be the best, so I only wanted to shoot better than him," said Gibson.
She had her doubts, thinking that she wouldn't even make the team. However, her biggest obstacle was being a female on a predominately male team.
"A lot of the males made it their personal goal to keep me in the bottom rankings because 'females shouldn't be on rifle anyway," she said.
Gibson only proved that she deserved a spot on the team. She has out shot all of her male counter-parts and gained their respect.
"Now they treat me like a part of the team and not just a girl who doesn't belong there," said Gibson.
With all the success she has achieved on the team, the burning question is, how did she do it?
"I pushed myself to be better than what was expected of me," said Gibson.
"I slowly made goals for myself and made it as the top shooter."
Gibson is now on her fourth and final year, a realization that is bittersweet. She is now closing a chapter filled with great memories; however, her favorite part of the experience wasn't
the competitions, but the relationships she has made.
"It's honestly just getting to go to different schools and meeting new people," said Gibson.
The friendships she has made and the lessons she has learned will follow her as she graduates and moves on to the next chapter of her life.