Second GRC DanceBlue Raises $2,055 for Children and Families Affected by Cancer
Changing Lives One Dance Move at a Time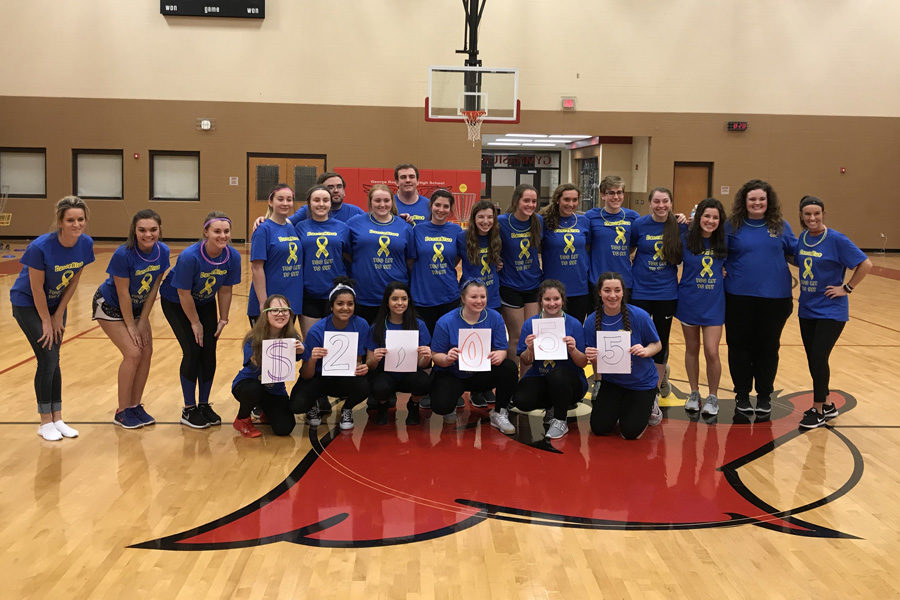 Okay, I'll admit it. Standing in a hot gym for six hours on a Saturday does not seem like the best way to spend the weekend.
But, after participating in my second GRC DanceBlue, I have learned it is an experience which offers more perspective and joy than anything else I have been a part of.
I remember promising myself after last year's DanceBlue that I would spend more time learning the dance moves for the next one. Yeah, that didn't happen.
So, of course, by the time we started the dance and I was flailing my arms and legs about randomly in front of about twenty UK students, I thought to myself, "Is it too late to back out of this?"
But then I remembered the real reason why I was participating in the first place: to stand and dance for the children who are too sick to do so themselves. So, I took my horrible dancing in stride and by the end of the last hour, I was proud of my efforts.
We spent the time in between dances doing different activities with the UK students.
The fun games we played helped us to get to know one another and distract us from our aching feet and exhaustion.
I was having so much fun that I looked up at one point and realized I had forgotten I was playing dodge ball with college kids, an activity that in theory, sounds disastrous.
I must say the most enjoyable part of DanceBlue this year was the kindness and positive energy the UK students brought with them.
Within the first ten minutes of the dance, a very sweet UK senior named Kennedy Fitzgerald had introduced herself and
struck up a conversation.
I asked her how long she had been doing DanceBlue. "I joined a sorority my freshman year of college and they really encouraged me to dance my first year at DanceBlue. So, I started fundraising and ended up falling in love with the organization!" Kennedy told me.
These UK kids were not the least bit shy in getting to know us and having fun as if they went to GRC themselves. Instead of dividing us, they brought us together in the spirit of charity.
After hours of dancing, playing, singing, and screaming, we spent the last hour listening to testimonies from those affected by DanceBlue.
GRC Senior Chevi Price gave an amazing speech about her own experience with a blood disorder and losing two people to cancer. She expressed the strength she found in those people's legacies to overcome it.
Dustin Rice, a former GRC student, shared his own experience with two cancers he had as a high school student and how organizations like DanceBlue can make a world of difference in the lives of patients.
Hearing these testimonies was the perfect way to end the night, assuring us that we have positively impacted people who are fighting an illness.
As a DanceBlue family, we are always eager to raise the most money possible.
All of the money raised by DanceBlue goes to The Golden Matrix Fund, which helps families raising a child who has cancer or a blood disorder.
This money can go toward anything the families need help with such as food, gas money, or medical bills.
So obviously, when we realized we had raised our goal amount for 2018 during the reveal at the end of the night, we were very proud.
"I enjoyed watching our students come together as one to stand for such a great cause. Our goal this year
was to raise at least $2,000 and we are continuing to add to our total," says Ashleigh Snapp, who organized DanceBlue this year.
Knowing that we are continuing to build this event and gain more participation and sponsors is exciting.
I hope students at GRC sign up for DanceBlue next year and get to be a part of this life-changing experience.