Beta Club and FFA Work Together to Make Thanksgiving Baskets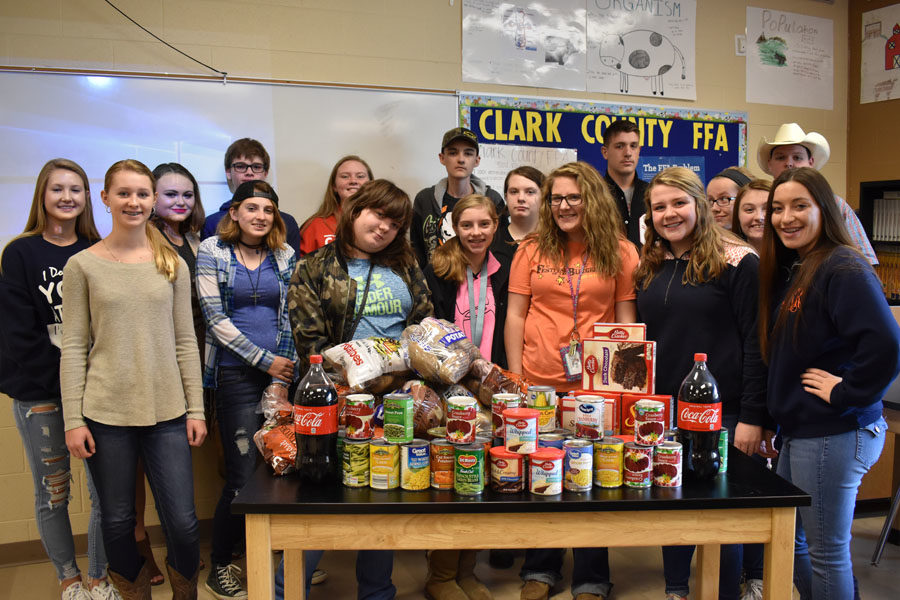 It's officially the season of giving and our school is kicking it into high gear.
Beta Club and FFA are shining a light on our
community by making Thanksgiving baskets for Clark County families.
Agriculture teacher Terra Pigg says the goal for the Thanksgiving baskets is to make 80 to 90 baskets to distribute to Clark County families.
Ag teacher Mr. Wiseman started this project 18 years ago, and to him it is more than just an everyday service project.
"This project is a humbling experience for our students to go out and distribute these baskets and see the lives of other people in our
community," Wiseman said.
Wiseman says out of all the projects he is a part of, this is by far the best to him because it is a chance to provide a Thanksgiving
dinner to 80 families.
Students who are not in Beta Club or FFA can get
involved by bringing in items to fill the baskets.
Each basket is to contain two cans of corn, two cans of green beans, one five- pound bag of potatoes, one can of cranberry sauce, one can of yams, two-2 liters of soda, one box of cake mix, one can of frosting, and one box of stuffing.
After all this is finished the Beta Club and FFA distribute these baskets to Clark County families. "It's great for the families we help and also for the students who deliver," Wiseman said.
It's 80 baskets combined with a whole lot of love.