Softball Team Honors Late Coach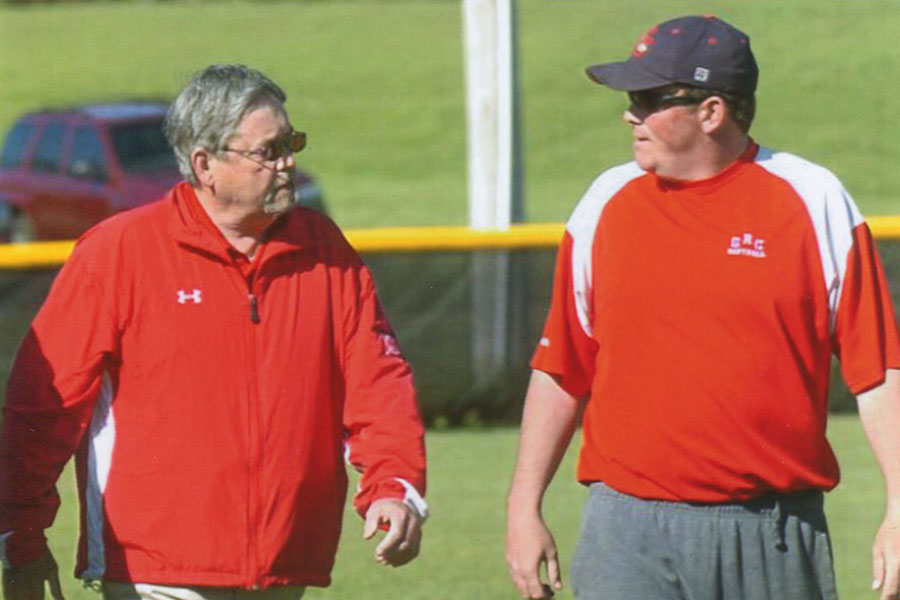 "Take your top hand to the ball and drive it." As far as the game is concerned, this quote is just a simple term when a player is up to bat.
For junior Claire Brandenburg and senior Caitlyn Spencer, this motto goes beyond softball. Whenever these girls remember the legacy of Coach Jerry Puckett, they think of his iconic saying that changed their lives.
Last season, Coach Jerry, the team's batting coach for several years, unexpectedly passed away from a heart attack.
Despite his loss, Brandenburg reflects on the good days they spent together on the softball diamond. "Jerry was like a grandfather to me," she says. "Every time I walked up the hill to the field, I saw him sitting at the picnic table we have and I'd always yell 'Hey Grandpa' and it put the biggest smile on his face."
Spencer also emphasized how close she was with Puckett and how much of an impact the coach had on her throughout her time playing for the high school.
"When I made the team, he always helped me become a better player," she says. "He wasn't there for just softball, he was there for me as a person. Coach Jerry was one of a kind."
Since his passing, the girls express some struggles that they are working to overcome. "Once our opponent gets ahead, it seems like we completely shut down and give," Brandenburg says. "Being such a small team, we are going to have to step it up and fight together to the end."
Despite these adversities, the memories of Jerry live on. "He wouldn't want us to quit," Spencer says. "We were one big family, and to keep playing is what he would've wanted."
Now, as the only senior on the team, Spencer will need to apply everything Jerry taught her to succeed in her future college career.
"This is the part where I have to play as hard as I can to get noticed and get scholarships for softball," she says. "Having Jerry as a coach made me want to play harder and to practice more to be the best."
Wrapping up her junior year, Brandenburg realizes just how much Jerry influenced her throughout the years.
"He always told me to work hard on the field, and even harder on the books because that's really going to get me to college one day," she says. "He was really my biggest fan, and to this day, I still wish he was there right beside first base, waiting for me to get down the line for my fist bump."
Head coach and son to Jerry, Matthew Puckett now stands on the field where he once stood with his father, continuing the legacy that left an impact on so many.
This season without his father has been difficult for Matthew to adjust with. "Losing my dad is the hardest thing I've ever been through," he says. "He and I had a special bond that can't be replaced. He was the heart of my program."
In spite of this, Matthew coaches on for his girls. "Knowing that each day, I can hopefully be a positive influence on a child's life, keeps me going as a coach."
As tournament play approaches for the team, Matt hopes to inspire the importance of living for today. "Life isn't a game," he says. "Always be true to who you are and live everyday as it's your last. Family is always first."