Driving to Succeed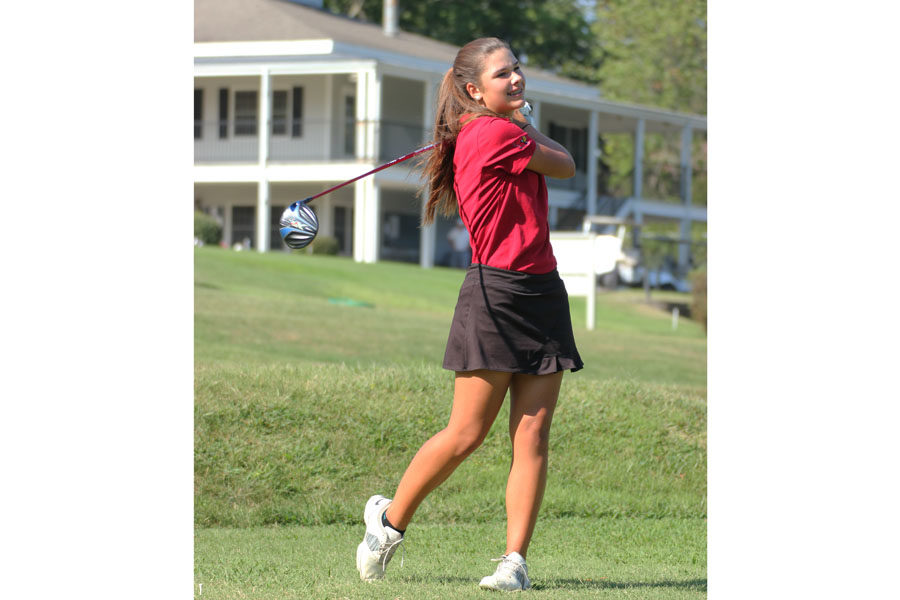 You step up to the tee box, placing your ball on the tee. You line up your shot and then… Swoosh! Your ball goes flying through the air and lands directly in the fairway.
This is a familiar feeling to GRC freshman Hannah Curreri who golfs on the high school girls golf team. She also does golf training year round and participates in tournaments throughout the state in summer.
"I have made many friends while golfing not only on GRC's team but throughout the state during my summer tours," said Curreri. "I now have many great relationships with people from golf and I still keep in touch with many of the girls."
Curreri started golfing in the 3rd grade when her PE coach Wes Martin influenced her to start practicing at the Winchester Country Club. Ever since then she has been pursuing her career in golf.
"My favorite thing about golf is that I can forget about everything that's going on and just play golf," said Curreri. "I feel like I'm in my own world."
Curreri participates in tournaments all over Kentucky. Including the Kentucky junior PGA, Hurricane Tour, Golf Week, Musselman Dunne Golf Tour, and the AJGA.
"When I'm out on the course I don't have to worry about anything," said Curreri. "I can focus on what I love doing most."
Curreri has had many memorable moments throughout her golf years. One person in particular helped her during the most important tournament of her 2016 season: Scott Franklin.
"Coach Franklin walked up to me and told me that I was past the cut line and that I could still make it if I tried," said Curreri. "So he persuaded me to keep trying and to follow my dreams and it led me to the second day of state."
Curreri is the first GRC golfer in exactly 40 years to make it to the second day of state. The last GRC student to make it to the second day of state was Cynthia Powell, who won the state title in 1976.
"Golf has taught me many great life lessons for on and off the course," said Curreri. "I have learned great sportsmanship, how to create great friendships, and overall to have fun."