JROTC Seniors Receive Scholarship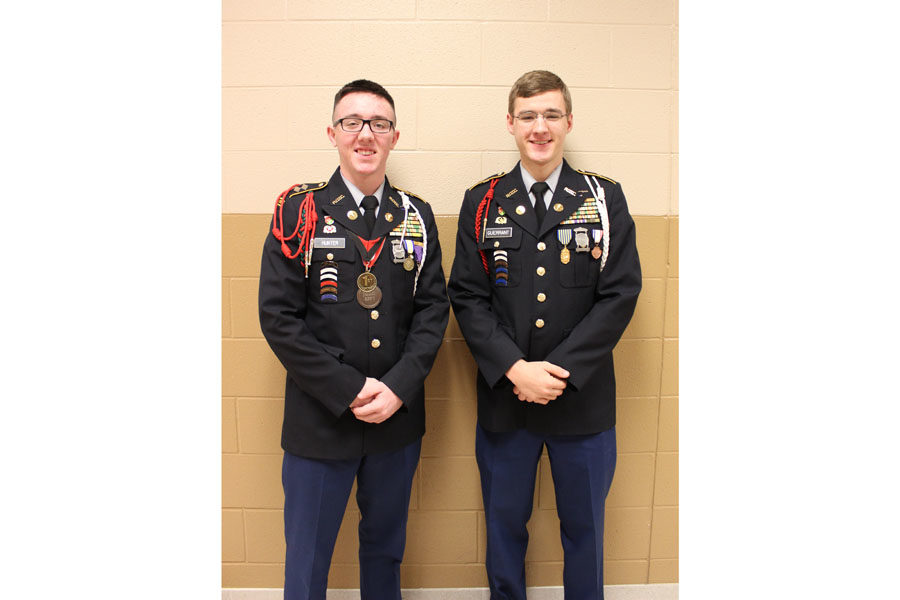 "Success is the result of perfection, hard work, learning from failure, loyalty, and persistence." Colin Powell once wrote.
For JROTC cadet seniors Daniel Guerrant and Riley Hunter, living up to this influential quote means everything.
Hours spent developing leadership and building their stamina with sweat running down and crackled voices after every command prove the strength and dignity it takes for this program.
All this hard work has paid off with a national 3-year JROTC scholarship awarded to Guerrant and Hunter for their outstanding ACT score, prothrombin time (PT) number, and GPA.
Guerrant and Hunter applied for the scholarship at "GoArmy.com" after providing their test scores and PT test. The award obligates them to eight years of military service after graduating the college of their choice.
"Applicants were considered before a board of military and civilian officials based on who they thought would make a good lieutenant in the Army," Guerrant said.
The commanding general of the U.S. Army cadet command, major general Christopher Hughes, personally congratulated Guerrant and Hunter during a presentation at the Military Ball.
Not only did the cadets get a personal message, but also a check each for $56,000. The whole scholarship total comes out to a total of $100,000.
Along with many incredible opportunities come strict guidelines you are required to follow. In this case, failing grades or failing PT scores can permanently damage the offer.
That why both Guerrant and Hunter only plan to aim higher each step to their dream of one day becoming an America hero.
"Col. Alexander and Sgt. Lee are very vocal about how proud they are of us both," Guerrant said. "They have worked incredibly hard to get us to where we want to be in life, and I could never thank them enough for it."
Hunter will also be joining the Army in his future, hoping to one day become an official Army officer.
"I am very grateful because I could not have been given this opportunity without hard work and perseverance which is all due to those who have supported me," Hunter said. "My family, friends, fellow cadets, and Master Sgt. Lee, Col. Alexander, and Daniel Guerrant."
Success is a goal not everyone gets to experience the way they imagined; however, for diligent cadets Guerrant and Hunter, their hard work and ability to keep going through struggles led them to a successful future bigger than they expected.