Academic Team Members Advance to State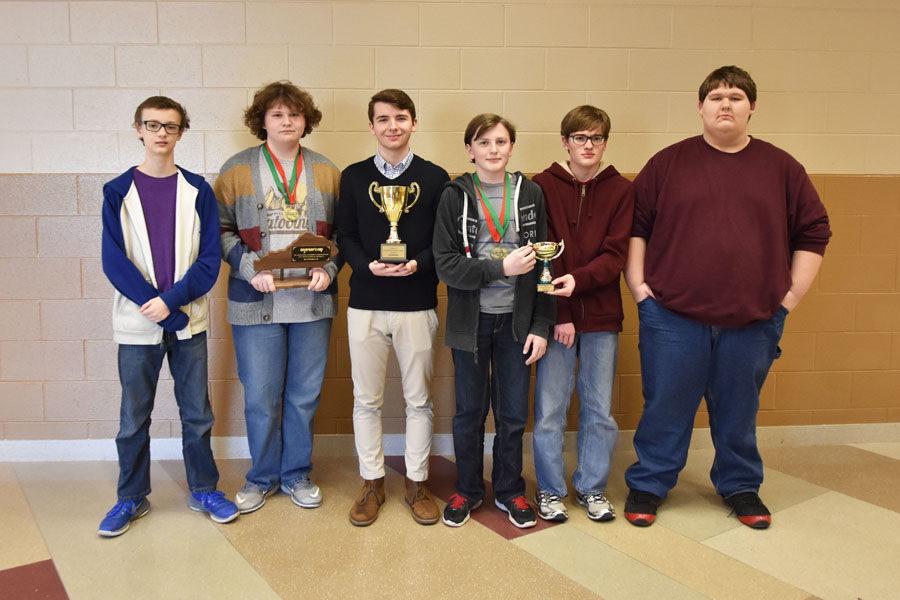 Form a team of four. Listen to the question. Beat the clock. Answer correctly.
The steps to being a successful quick recall team, may look easy when written in their simplest form, and thanks to few freshman, the GRC academic team is making a name for itself.
If a team wants to win, it plays to its strengths even if that means relying on its youngest players. "Our team is 98 percent freshman, so their youth and exuberance made them the talk of the meet as they were deemed the team to watch out for," says academic team coach Robyn Murphy.
The team has brought home several titles this season including Junior Varsity Thoroughbred League Champions, 40th district runner-up, and, most recently, they placed third out of sixteen teams in their regional meet. At this competition, which took place on Feb 18, the team placed 2nd in quick recall to qualify for the state Governor's Cup on March 12.
"I now have more random knowledge than ever before," says junior Daniel Morris.
In addition to competing in quick recall, the team will also be represented in three out of five written subject areas. Morris, Cameron Spicer (9th), and Megan Hudnall (9th) individually qualified for written tests in science, social studies, and arts and humanities.
Freshman Hunter Mitchell shares the impact this successful team has had on him individually by saying, "Being a part of this team has encouraged me to learn and grow as a person."
Coach Murphy sees the influence this team has every day. "Academic team play teaches self discipline and sportsmanship," says Murphy. Ben Meyer, a freshman, agrees saying "I've spent a trillion hours at academic team. It's a real sport."
This lighthearted fun that the young members add to the team is one of Murphy's favorite parts of being involved with this intelligent bunch. "They know how to keep me on my toes," she says.
When they aren't busy cracking jokes, they are studying in order to prepare for meets. "For all the 'dork' stuff involved it's rather fun," says freshman John O'Bryan, "there's always something new to learn."
The team members aren't the only ones learning. Although she's the lady with the study materials and competition strategies, Murphy says this year has taught her a valuable lesson: Never underestimate a freshman.