Actors Eagerly Await Opening Night
The Music Man with a Note of Camaraderie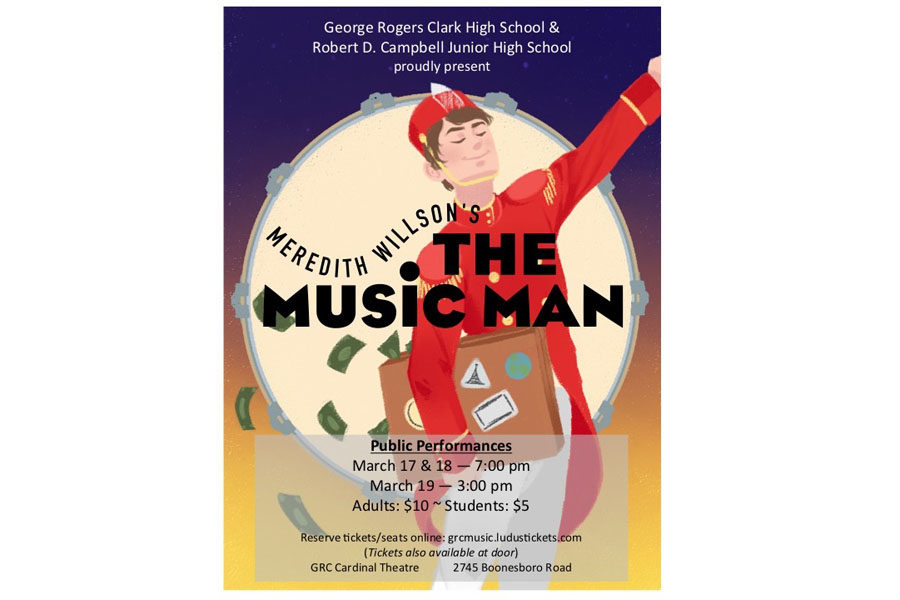 Dimming lights, rising curtains, and a quieting crowd are a performer's favorite things because they all mean one thing: It's show time.
The past two years, GRC theater performed some of our childhood favorites, but this year they are performing a more classical play.
GRC students can enjoy The Music Man during the school performance March 15 or during their public performances March 17-19.
"A play like The Music Man is something GRC hasn't done in a very long time;"says senior Linnzie Hays, "it is a very classical musical with beautiful music and comedic romance."
This musical follows Harold Hill, a con artist who comes to River City, Iowa. The Music Man (Jalam Sutton) scams the "Rivercitizens" by pretending to be a band leader in order to get their money.
While convincing everyone he can actually lead the band, he also wins over the heart of the local librarian, Marian Paroo (Hays).
"It is a subtly humorous play with plenty of catchy songs," says senior Jordan Schwalbee (Mava Dunlop).
Auditions for the musical took place last semester and the cast has been rehearsing lines and learning choreography ever since.
They put in countless hours in order to put on a show that audiences of all ages will love.
"We get to put on a show that showcases not only the musical itself but the camaraderie we all have amongst one another," says Schwalbee.
Being a part of the production has allowed for individuals to express themselves in a creative fashion while forming friendships.
"Everyone in this cast is in the show for a reason, and that is because we love the arts," says Hays.
Many students are involved in the production of the musical. Band, choir, orchestra and theater students have used their passion for acting and music to create a show you won't want to miss.
"Fine arts teachers around GRC joined forces to allow students of all art interests to participate," says senior Elena Guerra (mayor's wife).
Although they express their creativity in different ways, they manage to combine their unique talents to put on a show that highlights their different skills.
"There's great chemistry with the cast as a big family," says senior John Shields (Olin), "You can tell because we hug each other a bit too long."