Love of Cheer Brings Sisters Closer
Big Sister on the Mat, Big Sister for Life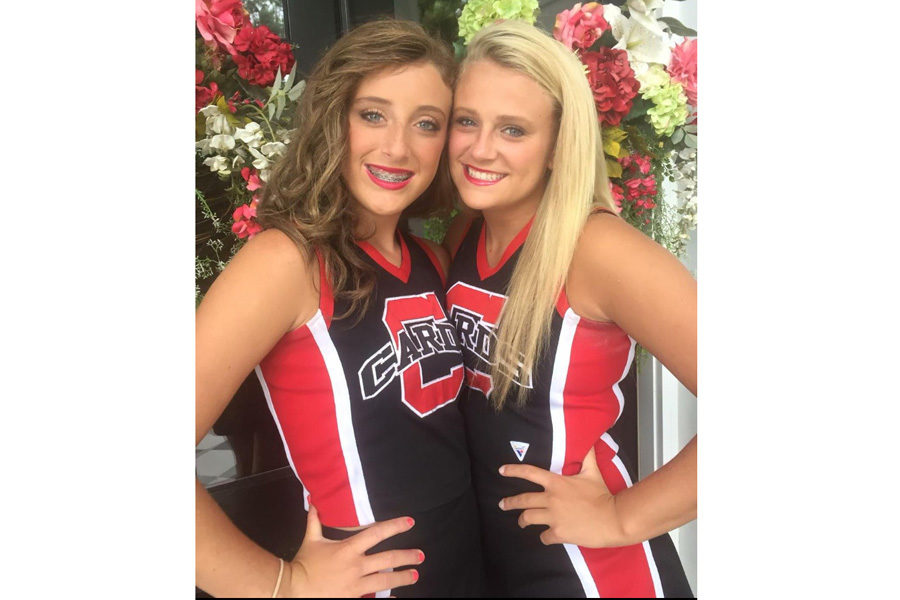 Halftime. Finally, a chance to relieve your nerves in the bathroom and eat your anticipation away with a bucket of popcorn.
This GRC v. MoCo rivalry game has been the talk of the town for weeks. Now is the only break you get to make sure you don't miss a single minute of the action.
While you're doing all this however, you're missing out on a performance of hard work and dedication from a group of girls. This is their only chance to show what they're made of before they head off to state and national competitions.
For GRC Varsity Cheerleaders and sisters Paityn and Preslee Palmer, their passion has been more than just a wave of a pompom or a "Be Aggressive" chant. They practice nine months out of the year and 15 hours a week to perform what they love.
Older sister Paityn, a senior, reiterates just how much effort she put into the past four years while on the team.
"We work endless hours to put girls in the air and learn to tumble," she says. "If you aren't focused, there is no way to succeed."
Younger sister Preslee, a freshman, also expresses the challenge of being a part of this year's squad. "When people think of cheerleading, they think of us at games, but that's only 5% of what we do," she says.
"When I think of cheer, I think of all the hard work put into the practices and all the fight that really goes into it. It really is a lot of blood, sweat, and tears to get to the competitive part, and that's the side most people don't see."
A cheerleader for nearly 15 years, Paityn didn't just test her athleticism. She also had to overcome the stereotypes associated with the sport.
"If you aren't a cheerleader or know somebody who personally cheers, you never really understand the true factors of it," she says. "It's not just 'pretty snobby girls' in skirts moving their arms… it's so much more."
Preslee also echoes this thought, that even through the hard times, cheerleading gives her an outlet to persevere.
"At times when you want to give up, you can't, you just have to keep going," she says. "You have to fight your instincts and push through."
Through all of this, Paityn and Preslee know they can rely on each other for support. "We have gotten so close because we spend everyday together," Paityn says. "I have loved being able to guide her as the older sister and teach her the ropes of high school cheerleading."
Preslee also shares the same love for competing alongside her sister. "She pushes me to do my best every day," the freshman says. "When I get upset or frustrated, she is always there to pick me back up."
Now that Paityn is finishing up her final year as a GRC cheerleader, she hopes to inspire a shared passion for the sport in her sister, even when she's gone off to nursing school in the fall.
"My advice to Preslee would be to cherish every day," she says. "You have no idea how fast it goes by until it's already over. Stay calm and love it even through the blood, sweat, and tears because you will miss it."
The next time you're thinking about getting that big tub of popcorn during halftime, just remember, these girls are worth the wait.