ATC Welding Students Prepare for Workforce, Earn Valuable Life Skills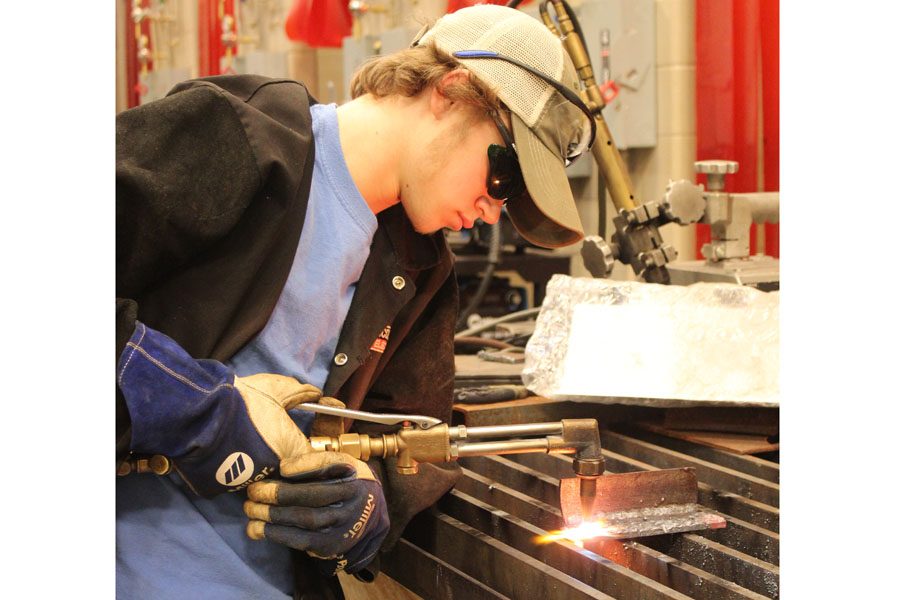 Life in the real world is approaching fast. Numerous options for the future are being presented and seniors are faced with a very serious grown up question: What's next?
This grueling inquiry has no precise answer. Following graduation, students may attend college or go straight into the work force.
Fortunately for students like senior Daniel Jones, the welding program has them prepared regardless of what they decide to do after high school.
"This experience puts me a step ahead of most students because I will graduate with experience in the work force as well as a welding certification," says Jones.
Students taking welding classes at GRC get real life manufacturing experience.
"Acquiring the skill of welding requires working with your hands and getting dirty as well as critical thinking and problem solving skills," says welding instructor Coy Hall.
Each class, students are faced with new tasks that are specific to the class they are in. They may complete at their own pace as long as they meet the deadline.
"This pathway is different from ordinary classes," says Jones. "You learn from trial and error as well as help from the instructor."
After completing an introductory welding class at GRC, students may enter the pathway. By simply passing the classes in the program, they can begin to earn credit toward welding certificates and diplomas.
"Students can learn a skill that not many people know or have," says Hall. "They also get the opportunity to see if this is something they may be interested in doing for a career."
To become career ready, individuals in the program may choose to take one of four exams. All tests are written and performance based and give students the certification needed to qualify for entry level welding jobs.
However, it's not all about securing a job straight out of high school.
"The welding program prepares students for the future by giving them skills needed to gain employment and preparing them for a seamless transition into post-secondary education," says Hall.
For Hall, however, welding does so much more. "My high school welding instructor was a father figure and role model in my life," he says. "My goal is to give back to others by teaching them the things my instructor taught me."
This may seem like quite the task considering he has 91 students participating in his program, but Jones says, "Mr. Hall always has a smile on his face, and is willing to give you demonstrations whenever you are struggling."
By giving individuals the chance to work on projects, Hall can spend time working one-on-one with students. Such instruction goes beyond just textbook curriculum.
"I want to teach the skills that have helped me in other facets of life as well," says Hall.
Students can attest that their learning tasks have strengthened skills as well as given them the opportunity to learn some valuable life lessons.
"By participating in this program," says Jones, "I have been able to work with others to complete tasks and prepare myself for anything my future has to offer."