JROTC: The Future for Senior Cadets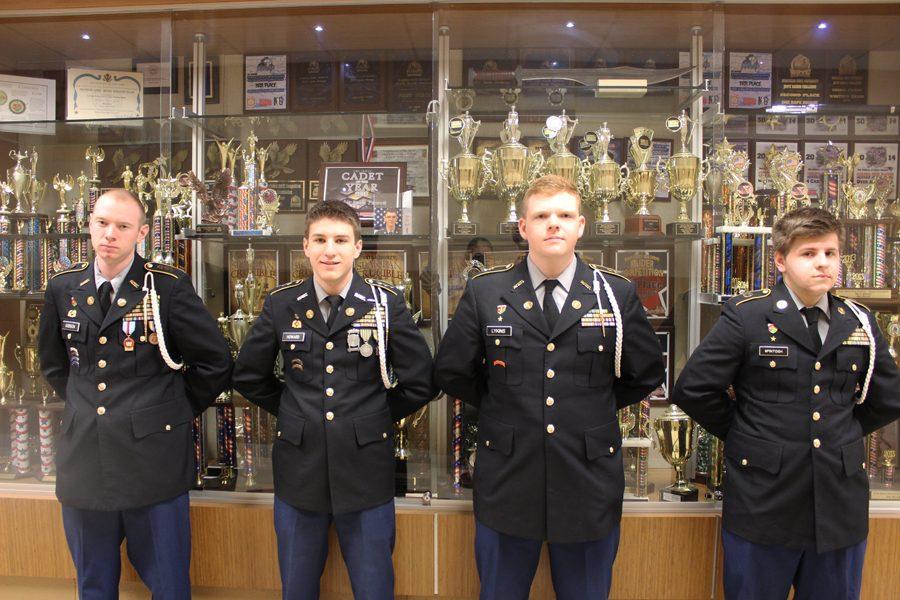 When you graduate high school you have many choices to make about your future.
What do you want to pursue after you graduate? Do you want to go to college?
These brave seniors have chosen to become something different than the average
graduate. Something the JROTC organization has taught them through the four years of being a cadet with instructors Sgt. Lee and Col. Alexander.
One path and one destiny to their dream – becoming a soldier.
For senior Austin Howard, joining the Air Force means everything to him. This
program has led him to many new outlooks.
It has also made his grandfather, who inspired his decision, a proud veteran as well. His plan is to become a firefighter for four years, then continue onto Para-rescue.
This job would involve recovery and medical treatment of personnel in humanitarian and combat environments.
Another senior, Chris McIntosh, plans on enlisting in the Navy, following in his family footsteps for his desire to make them all proud.
He plans on exploring the different jobs offered through basic to find the best for his future. "I use to always try to fight everything, but this experience has helped me become more mature," McIntosh said, anticipating graduation as he waits to set out on his journey.
Seniors Austin Lykins and Cody Gibson both have enlisted into the Army for after graduation.
Lykins enlisted into the U.S Army as a 56M, providing support for the Unit Ministry Team and worship centers. He will act as a bodyguard to protect the chaplain and fellow troopers during service.
He will continue to carry out the mission of the four-year organization – becoming a better citizen. "I don't deserve the freedom I have here in America and I wanted to earn my right to become a citizen of the U.S.," said Lykins.
Gibson, an Army enlisted senior as well, joined the private first class U.S Army National Guard. His career option is to assist as a member of the Military Police. This task requires him to arrest people in the Military who refuse to do their task and fail to act as a respectful and responsible citizen of the U.S.
Gibson has always liked the atmosphere of helping people strive to make their life more positive.
"Everyone is a big family, and I don't really have that in my life," said Gibson.
Cadet Joey Sanzone, who graduated in December from GRC, enlisted into the Kentucky Army National Guard to become an 88m (motor transportation operator). These servicemen and women are the backbone of the Army's support and sustainment structure.
Over the years in this award- winning organization, Sanzone has matured up from the first day of a cadet in this program to his last, becoming motivated for the next chapter.
"The future I see gets me ready for the real world to hit me," he said.
These seniors will take encouraging feedback the instructors of the program have given to them over the years, which has helped shape them into the mindset and reality of the soldier they plan to become.
They will be taking different journeys; however, all of them will walk with their brotherhood on the journey of a warrior.