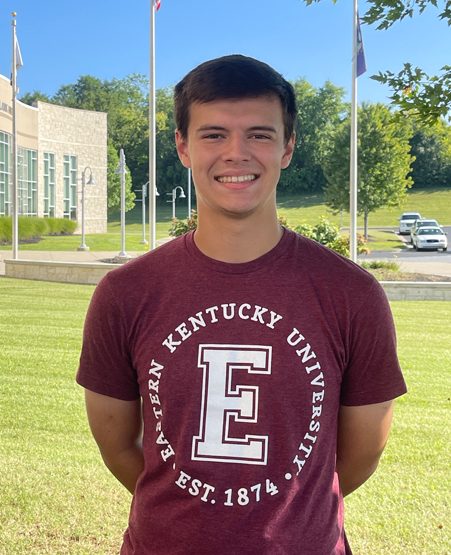 In a time where social media is often seen as a vehicle for polarization, cyber bullying, comparison, and low self-esteem, it's refreshing when it leads to an opportunity of a lifetime.
That's exactly what it did for a little boy from Cynthiana who is now starring in his very own national commercial.
Lane Hartzel is a third grader at Westside Elementary.  Lane was born with Cerebral Palsy and Cortical Vision Impairment, resulting in difficulties with communication, motor skills, and vision. He just so happens to be my best friend and my hero.
Behind Lane is a team of people helping him achieve success despite the obstacles he faces. One of those people is his speech pathologist, Angela Rainey. She never gave up on him and saw him for the brilliant kid that he is.
"I've always said Lane is smarter than all of us," says Angela. "He was just waiting for us to figure out a way for him to communicate."
Lane can't use traditional methods of alternative communication because of his visual deficits. With the hard work of his school team and Cincinnati Children's Hospital, they were determined to find a solution, and they did. 
Lane and I bonded during COVID. He was doing virtual therapy with my mom in our home office while I was beginning high school in my room on a Google Meet. I realized how much we had in common — we share a dislike for costumes and Halloween, love dogs, laughing at dumb jokes, and chocolate — so I knew we needed to be friends. Luckily, Lane agreed. I became his "voice" for his communication switch, and I've been honored to be a part of his journey ever since. 
Jen, Lane's mom who is also a teacher at his school, ended up being so grateful for a day she had worried so much about. 
When Lane was in first grade, his class celebrated Career Day. He chose to be a Hershey chocolate taste tester as his future job. His career choice was the hit of first grade. Lane's mom ended up posting about it on Facebook. 
"When I got the message last Monday about Friday's career day, I immediately started to dread the dress up day," she wrote. "Questions about Lane's future flooded my head. I grieved what Lane would've wanted to be, could have wanted to be, and worried about what he would be able to choose for Friday."
But Lane's team never lets him down. He had a myriad of realistic options to choose from and chose, probably, the coolest job on the planet.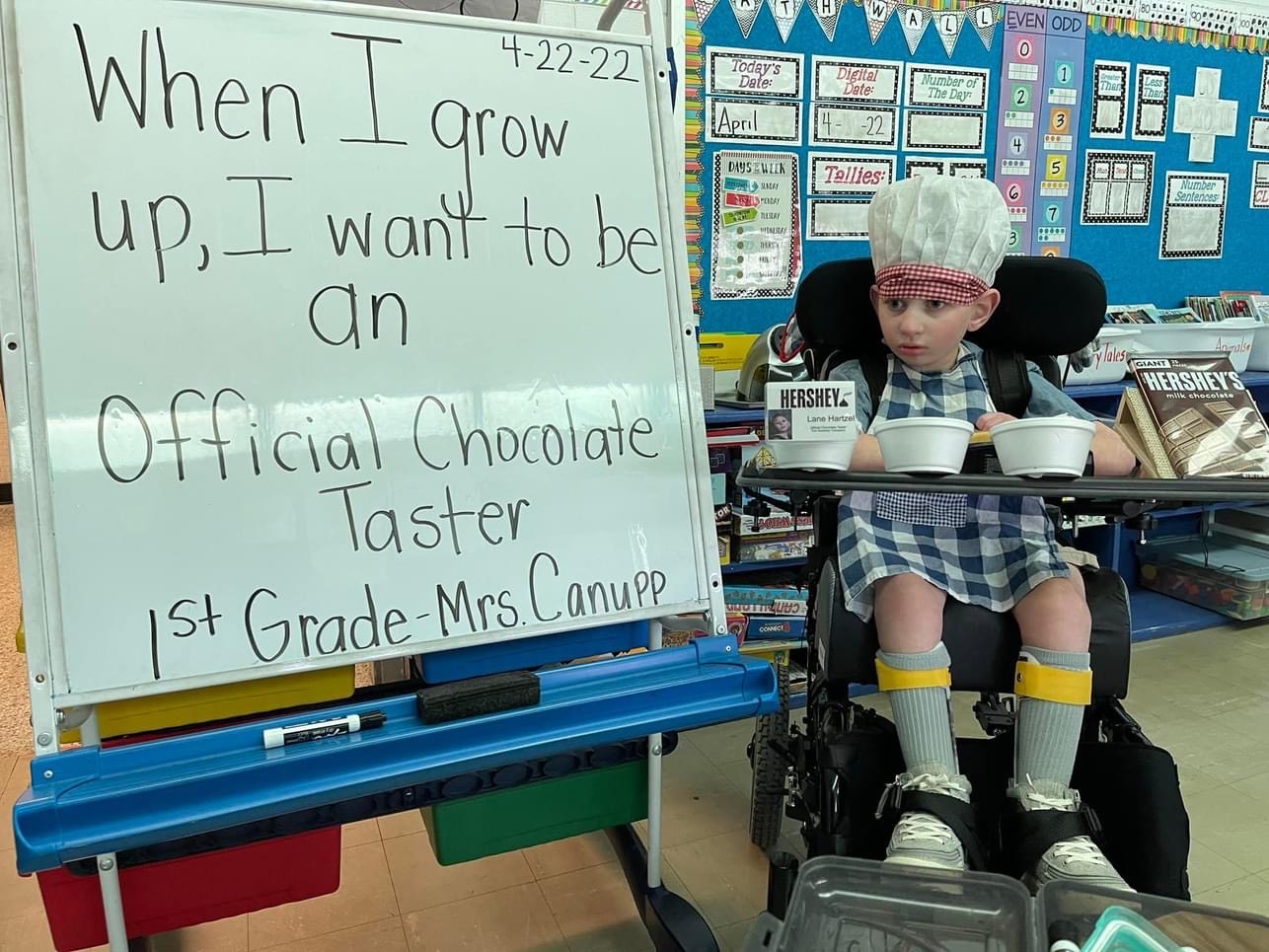 Enter Jon Hoskins, Lane's school principal. After Jen's post to Facebook, Mr. Hoskins got the idea to send the post to Hershey.
"All I did was share her original post with Hershey through Facebook Messenger. They responded within hours," says Mr Hoskins. "Truth be told, I wasn't expecting a response, so I was pleasantly surprised when they replied and even moreso when they asked if they could speak with Lane's mom. I thought, at best, they might send him some chocolate."
But no, Hershey went above and beyond with their relationship with Lane. A phone call was just the beginning. Hershey executives flew to Kentucky last summer. After meeting with the family and Lane's team, an idea was born. Lane's story was going to be shared with the country.
In September of last year, Hershey and a "too many to count" film crew showed up at Westside to treat Lane's classmates to a milkshake created by Lane himself and Hershey chocolate for the entire school, as well as interview his team.
From that meeting, the Hershey company created a commercial that is airing nationwide. That day, Hershey made Lane an official chocolate taste tester for the company. 
The story doesn't end there; it's ongoing. Lane has inspired Hershey to share stories of smalltown America with the world. Their relationship with Westside Elementary also continues with treats being delivered, as well as Hershey employees stopping in for visits. 
Mr. Hoskins tells us, "Hershey's continues to partner with our school. They have volunteered as guest readers, spoken at Career Day, and we are currently planning events for this school year."
This experience has been life changing for Lane's family and for me. I've been able to see the good that can come from social media, and it's made me believe in humanity again.
And who knows, maybe it will lead to a job for me in the Hershey corporate office one day.
Until then, I'm only buying Hershey chocolate.