Saying Final Farewells to a Great Season
Maddie Mann, Arts & Entertainment Editor
December 5, 2016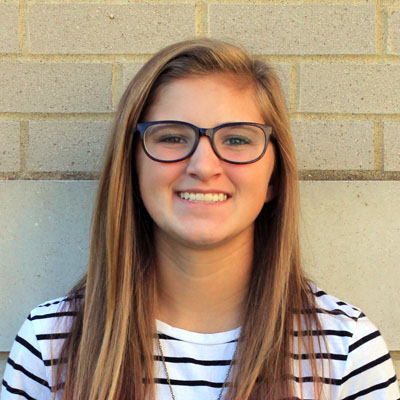 Maddie Mann
A&E Editor
We made it. Past Bourbon County in the District Championship. Past Harrison County in the Regions. We fought like our lives depended on it.
Every second of every game prepared us for where we were going, and finally we were there, at the State Tournament.
We were playing against Lexington Catholic, the number five seed in the state, and the score was 1-1.
The sound of the LexCath student section was drowned out as we defended our goal. Our hearts fell as they scored. But the game was not over yet.
We fought until our lungs were on fire, our legs felt like jelly, and every step felt like our limbs were weighted down. But eventually the clock ran out, and we had lost.
We held our heads high and shook hands with the winners, but when we met on the sideline tears threatened to spill from our eyes. Our season together was over.
This is the first year our coach, Matt Abner, has coached a group of seniors for all four years of their high school soccer career, and it showed with how well our varsity team got along.
"This year was amazing because of how close we were, which helped on and off the field. This year was the closest the team has been out of the four years I've played, and I felt like I didn't just make close friends, I became a part of a second family," says Avrey Skillern, senior.
We started our high school season in July, waking up for early morning practices at the break of dawn, returning to practice under the sweltering heat of the afternoon. From the start we had the potential for success, most of the girls having played with each other for years on select and middle school teams together.
We spend almost every day seeing each other from July to well into the year. We had pasta dinners the night before big games, long bus rides to the playing fields, and even an annual team camp-out at the beginning of the season for upperclassmen to get to know the freshmen and 8th graders.
After this season, we aren't just a team. We are a family.