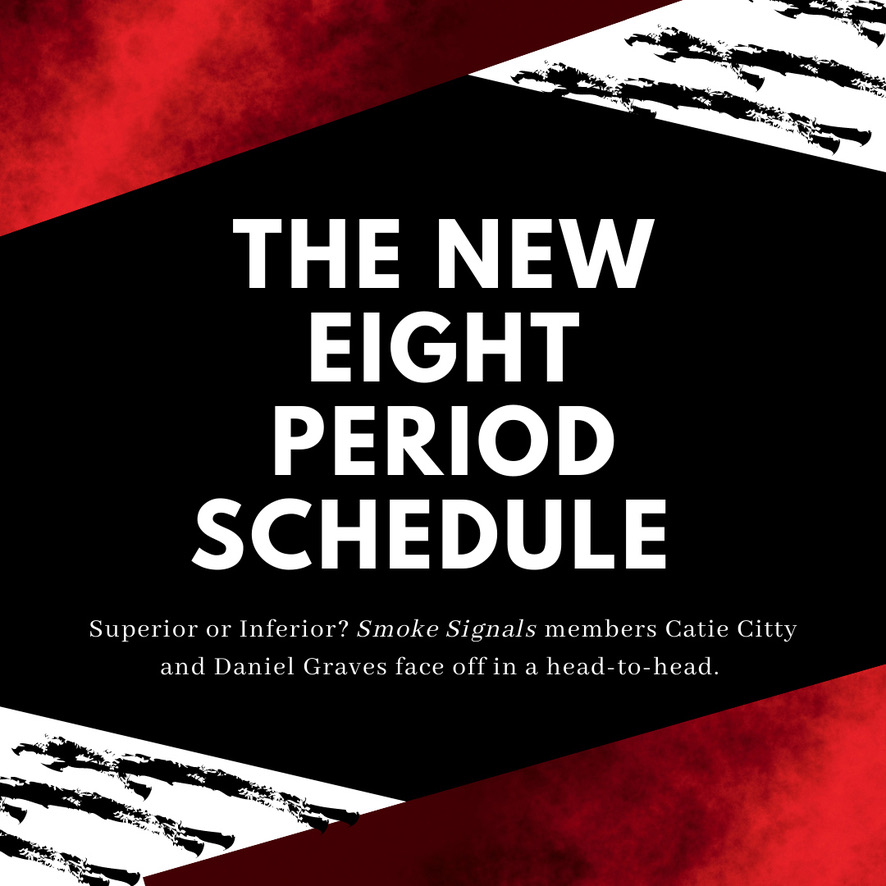 HEAD TO HEAD: New or old schedule?
September 27, 2021
New and improved
 The year of 2019, before Covid was a thought and everything seemed simple, yet there was another problem on our hands. Two and a half hour classes.
The upperclassmen know what I'm talking about and I hope the underclassmen never experience the sheer agony of the old unpredictable bell schedule.
The new bell schedule gives students a sense of direction and helps them to guarantee how their day is going to go.
My sophomore year I dreaded Tuesdays and Thursdays. Don't get me wrong; I loved the teachers, but it was very hard to establish a relationship with them. 
With GRC's new motto, "ALL IN,"Mr. Keene is dedicated to his students and staff, and committed to the wellbeing of the entire school.
The new daily bell schedule gives us the structure we need, and gives us the opportunity to flourish EVERY SINGLE DAY. 
Personally I feel as if the two and a half hour classes left us with a sense of confusion. We had just spent those hours learning and we walk back in on Thursday and we have forgotten everything. If you just so happened to miss Tuesday and Thursday, you would have missed an entire week of your 6th and 7th period.  It just isn't realistic.
This year, the bell schedule is so much more reliable and consistent, and you will have a good expectation of the day ahead of you. The day goes by so much faster and students can actually retain the information they learned the day before.
It is so much easier on the incoming classes by giving them a chance to set a routine and understand how high school should look. For a freshman coming into a huge, new school, those long classes just aren't needed, and with those classes there is a larger opportunity for idle time. 
 With the 45-minute classes, some might argue that the teachers have no time to teach the curriculum, but actually with shorter classes the students don't lose focus and they're invested the entire time.
One of the reasons we had the old bell schedule was for the students who left for dual-credit classes, but you can't let the needs of a few dictate the needs of many. With the schedule this year, dual-credit students still have plenty of time to get to and from point A and B, and on Monday, Wednesday and Friday, they can get caught up on work and stay on track.  
With the current school year, the goal is to have the most seamless transition from virtual school, and the new bell schedule gives us that. It gives the students a better chance at learning, and it helps the teachers to get to know their students one on one.
After the past year and a half we've had, it's more important than ever to be thankful for the things we get and to realize just how lucky we are. 
Leave a Comment
New, but not improved
The new schedule hasn't been implemented for long, but the pros don't outweigh the cons. 
The eight-period schedule that's been applied this year has been an unexpected adjustment for everyone. To put it simply, the old schedule was more beneficial than the current one. 
While we do get to see all our teachers every day, it's only for a brief period of time, often feeling like the class is over the second we walk in. 
The classes may be shorter, yet the day is still exhausting as we're going to eight classes a day instead of the five or six we're used to. 
Many who prefer the new schedule argue that the previous one caused issues when a student was absent, potentially missing half a week's worth of work. However, a student being absent will still miss out on a significant amount of work regardless, as teachers will always be teaching as much as possible. Absences are an issue for every schedule, and aren't magically solved no matter which one we use. 
The two-hour classes may have been long, but they were more effective. 
The longer classes allowed teachers to be able to cover a week's content in two days, whereas the eight-period schedule will force them to stretch out their lesson plans over the week with much less time per day.
For lab-based classes, the short time period leaves instructors rushing to set up labs, and have to resume the next day when they inevitably won't finish, causing progress to be lost. 
There are also many classes that are project-based, and similar problems arise. By the time a group gets their idea and organizes a plan, the bell rings, forcing them to disband their team and leave their project for the next day. 
It's better to have too much time rather than not enough. 
The new schedule also causes problems with scheduling in general. Some classes have less availability, and some teachers are teaching classes they haven't taught before.
"One-period only" classes compete with each other, forcing students to choose between two helpful options, which they could want and need.
The new schedule isn't perfect, and the old schedule may be better, but there still are more options for an effective schedule that would combat our current one, such as a true "A/B" block schedule. This is a viable option to consider in the future.
For teachers and students alike, the new schedule has caused new problems. The changes may have been good in theory, but it's become a hassle that wouldn't have been present if the schedule had stayed the same.
Leave a Comment