Apple Unveils Brand New Products at Sept. Event
Every year in Sept., consumers indulge in their window-shopping during Apple's fall Keynote event. This is the time that Apple will unveil major flagship products, with the most anticipated always being the latest iPhone. While Apple did make a couple of other interesting announcements, the iPhones stole the show.
After paying homage to founder Steve Jobs in the brand new Steve Jobs Theater, the first matter on the agenda was the Apple Watch. New features for watchOS 4 were announced, such as a focus on health with features like Gym Connect that lets you sync to your gym equipment and more intuitive heart monitoring. The big surprise here came with the reveal of the Apple Watch Series 3, which will have LTE capabilities. This means that you'll be able to get calls, texts and notifications as well as streaming music without having to have your phone nearby. The Apple Watch Series 3 is available starting at $329 without LTE and $399 with it on Sept. 22.
Up next was the Apple TV 4K. Apple's streaming device got a major graphics upgrade now that it can support 4K video. The Apple TV 4K also now has live news and sports and improved Bluetooth. You can get it on Sept. 22 starting at $179.
The next major announcement was the iPhone 8 and 8 Plus. These phones look similar to the iPhone 7 line, but the biggest design difference is in the back. The back of the phone is now glass, giving it the capability for wireless charging, meaning that you can lay your phone down on a special pad and it'll begin to charge your phone. Plus, the display has improved along with the new A11 Bionic chip, resulting in better screen quality and a faster phone. These new phones will also have the power to better utilize augmented reality, which takes your camera and blends the real world with games and apps, which has promising aspects for what can be done with it. Imagine wanting to see how a piece of furniture looks in your house, so you use your phone to digitally see how it fits. With the 8 Plus, the dual-cameras have better sensors in them allowing for better pictures and the addition of a feature called Portrait Lighting which lets you adjust the lighting during and after taking a portrait picture. Both phones come in silver, space gray, and gold, the iPhone 8 starts at $699, the iPhone 8 Plus starts at $799, and you can get them also on Sept. 22.
Finally, Apple revealed the iPhone X. To celebrate the ten year anniversary of the iPhone, Apple announced a phone with an edge-to-edge screen with a size between the iPhone 8 and 8 Plus. The OLED display provides a very bright and colorful display. Another big change is that this phone has no home button, taking away Touch ID and introducing Face ID. With brand new sensors, users will be able to unlock their phone by using their face as Apple ventures into the world of facial recognition. Some are skeptical of how well it'll work, but hopefully, Apple will be able to get it to work flawlessly and put them ahead further in the market. The hardest sell though is the price. On Nov. 3, the iPhone X will have a starting price of $999.
Overall, it was a very impressive showing from Apple this year. It's smaller announcements like the Apple TV 4K and the Apple Watch Series 3 were still impressive in their own way. As usual, the iPhones were the star of the show. The iPhone X is definitely an advancement in technology, but with the price point and the questionability of Face ID, the iPhone 8 and 8 Plus are still just as impressive. Either way, this year is a good year for Apple and it'll be very interesting to see what they do next year.

About the Writer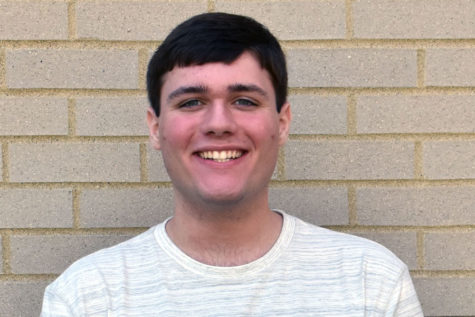 Hagan Wells, Executive Media Editor
Hagan Wells is a Senior and second-year Smoke Signals member. His favorite TV show of all-time is Psych and his favorite color is red.