Mr. Hammonds makes return to GRC as assistant principal
Former teacher is new assistant principal
In 2003, Robert Hammonds taught at GRC as a social studies teacher. His time at GRC lasted for a short year before he took another job.
Little did he know that he would be returning to GRC 18 years later as an assistant principal. 
"I think that GRC has the most potential of any high school in the state and the staff and students are great," says Hammonds. "It was a great move for me and my family." 
Hammonds has 25 years of experience as a high school educator, focusing the last 14 on administrative duties. He also coached football (including winning a state championship in '97 ) and track for five years, coached basketball for 21 years, and was an athletic director.
Hammonds obtained his masters from Georgetown and earned his rank I in instructional leadership from Northern.
 "I'm very approachable," says Hammonds. "I want everyone to know they can come talk to me."
Hammonds said he wants to make sure all students prosper this year, applying himself to the new "All In" motto GRC has adopted.   
"I want to make this school the best high school in the state," he says. "I think with all the potential, opportunity, resources, and leadership we really are 'all in,' I want to make sure that I am at my best."
With a difficult school year for everyone last year, getting things back to normal will prove to be a challenge. 
"As always the biggest challenge is fulfilling the needs and providing the resources for the teachers and students, and as administrators, our job is to be resourceful and helpful in any way we can," he says.
As we step into a year with lingering uncertainties, Hammonds emphasizes the importance of the high school experience. 
 "Do all the things that you want to do in high school," he says. "Don't have any reservations. Try to have the best experience that you can… be involved."
Involvement isn't an unfamiliar concept to Hammonds, as his children are busy with extracurriculars and sports.
His stepdaughter, Kylie, is a sophomore at GRC. Sons Peyton and Paxton attend RDC in the 7th and 8th grades.  Autumn, Hammond's wife, is a doctor at the University of Kentucky. 
"Everyone has been very kind," he says. "My family and my kids have had a really good transition and that's been really great for me."
Back at GRC, Hammonds is determined to make this year a great one. 
"I've been working at a high school for 25 years," he says. "This is my passion. I look forward to getting up every day."
Leave a Comment
About the Contributor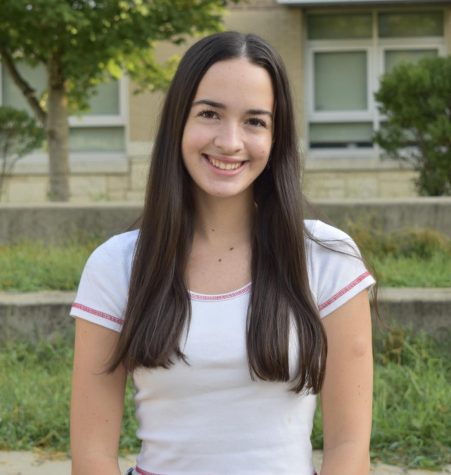 Sarah Johnson, Managing Editor
Sarah is most afraid of spiders. She thinks Whales are better than Goldfish because they just have a much a better flavor. If she were a type of shoe,...