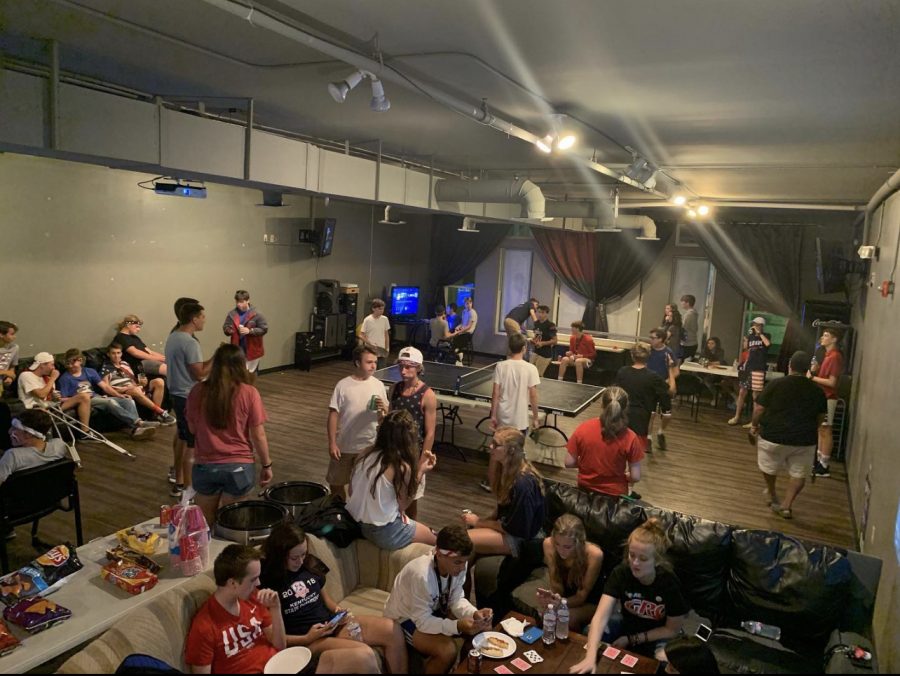 File photo submitted
From the bus, you walk in. You head upstairs to hang out with your friends by playing videos games and ping pong.
After a while, you head downstairs with a high school tutor to get homework done.
Once homework is finished, you talk with your friends as you eat a healthy meal.
This is a day in the life of a student at The Rowland Arts Center.
The RAC is a welcoming place in the community where students can work on school assignments and strive to be a better version of themselves.
Here, students Dream Big.
"We have a motto that we use called 'Dream Big'," said Zach Cowan, assistant program director. "The idea is that we want to see students, here in Winchester, know that they can break out of any circumstance they are in. They can have the freedom to go do what they are passionate for."
With opening in 2013, the RAC has been able to start many programs for Winchester and Clark County youth.
One program that is mainly focused on in the RAC is Mentors and Meals.
Mentors and Meals is a program that selects Baker Intermediate students to be transported to the RAC after school by bus to complete school work with a high school tutor, while also getting to hang out and enjoy a healthy dinner. The RAC feeds from 60 to 100 students Mondays through Fridays through Mentors & Meals.
"I think students need a space to focus, if they're anything like me, then when they are home they can't focus at all," said Cowan. "There are many distractions and home is a place to check out and not focus on work, so they just need another outside space to come in and get something done."
With the RAC wanting to see young adults succeed at their passion in life, the organization has started helping them to find a job.
Project Launch is teaching students the importance of having a job and making it possible for them to learn how to be an employee.
"We want to help students in their career path by giving them proper job skills, teaching them how to act in an interview, how to create a resume, and how to apply for a job," said Cowan. "We allow them the chance to get to some working experience here at the RAC to be able to build their resumé."
Mentors and Meals and Project Launch are just two examples of how the RAC helps students excel in life. Not only do they want to help each student, they want to be there for them and show that they cared for.
"We have our own Board of Directors, an intern, and a list of volunteers, and we partner with a lot of churches and organizations," said Director Joseph Miller. "We work with a lot of organizations that are teen focused and investing in the next generation."
During the summer, the RAC has a program where students from Winchester have the opportunity to get out and experience some exciting activities.
"Students are able to go do things around Winchester like hiking, bowling, and getting to go to the movies," said Cowan. "We also like to have enrichment classes in the summer where we teach them some ways to cook and some tips on photography, so that we are enlightening ourselves and growing."
COVID has presented challenges, but did not stop the RAC from trying to reach out to students and make sure their needs are taken care of.
The RAC is open for junior and high school students to come in and have a quiet place to work after school.
"We have access to a team of high school teachers to come and help whenever a student needs it," said Miller. "We wanted to provide a space so that kids had access to Wi-Fi, so the RAC provides a place for students to have that opportunity."
Not only has the RAC helped out students within the community, it has also opened the eyes of the leaders who work within the RAC.
"It's been a joy to be a small part of such a larger ripple effect that happens in terms of being able to raise up leaders, like previous interns, that will then raise up tutors," said Miller. "Empowering others for them to also empower is probably the greatest part of this job."
The RAC has no limits to inspiring and empowering. Every program and activity is about putting the students' future first. Whether they are assisting with school work, helping with job opportunities, or even just getting to know the students, the RAC does it all with devotion.
"We want to support students with any challenge they might be facing," Cowan said. "We love having the opportunity to encourage them to Dream Big. We want them to feel and know they have the ability to achieve what they desire."