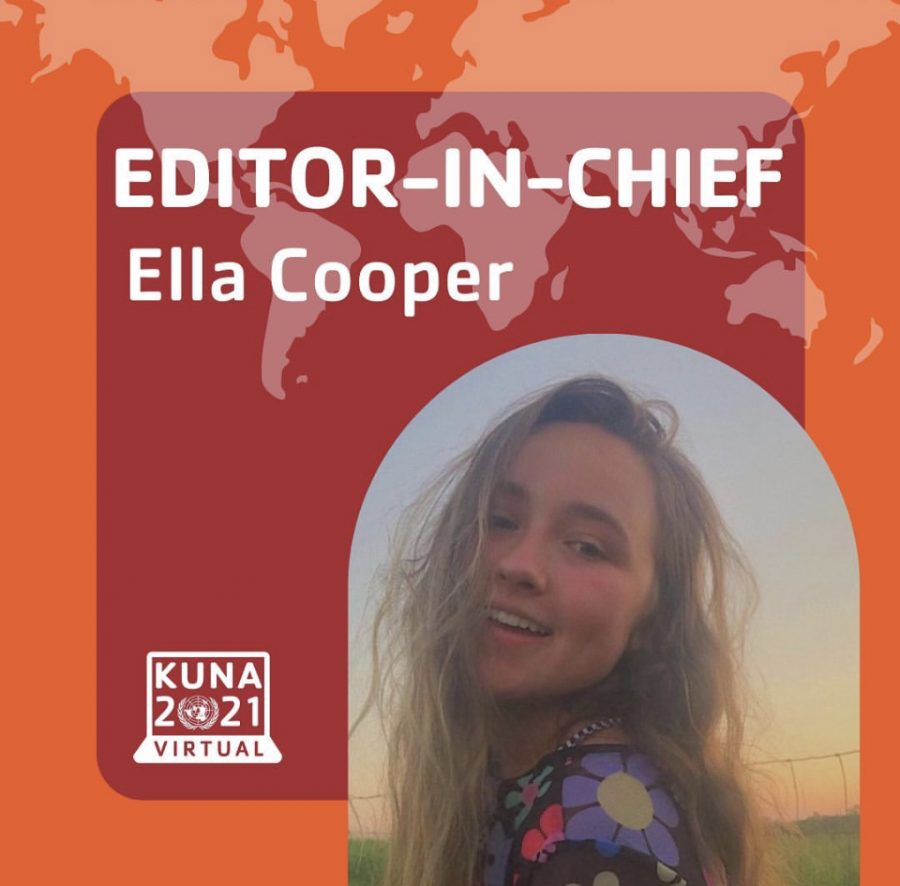 Graphic submitted
One day. One day can change your life into something you never expected. 
I went into this week with my head held high and a huge smile on my face. It was officially KUNA season, and even though it was online, I was super hyped. Because this year, I decided to try a program I had never done at a Y conference: The Media Program. 
Last year, I wrote a feature on how important the KYYMCA program is for students and how enjoyable their KYA conference was, through a computer screen or not. 
This week I had the privilege to attend the Kentucky United Nations Assembly, KUNA, as a media delegate. You are probably wondering, what in the world is KUNA?
Well, KUNA is a 2-day conference where students get to participate in simulated international diplomacy. You get to experience culture from all around the world and learn their perspective on world issues. The media delegates at KYA and KUNA get the chance to document all of the conference's happenings. 
I came into this program with some anxiety because I felt inexperienced. Granted, I have been in journalism classes since the beginning of my high school career, but this media was more fast-paced because of how short the conference is. Despite my nervousness, I went in with an open mind. So, for the second time this year, I put on my pajama business casual outfit and headed to the computer. 
Our first zoom meeting was just an introduction to everyone and all the media pathways you could choose.  There was the newspaper (writing), broadcast, podcast, and social media. I was interested in all of the mediums, but I decided to stick with what I know best; writing. And of course, I decided to take on the most difficult article: the candidate profile. 
The candidates at KUNA have one of the hardest jobs out of anyone. They have to run a campaign, make speeches, and get the votes from at least 200 students to get a position. The presiding officers, P.O.s, preside over their elected area of the conference. It is a huge deal, which means it needs good coverage. So another student and I took on the feat of interviewing all 5 candidates in one day. 
The candidates were so knowledgeable about their issues. This made it more fun because we could ask follow-up questions to get to know them even more than before. I do not think I have ever worked that hard on something that went by that fast.
And on top of that, I got nominated to run for the Media presiding officer position, Editor in Chief. 
When I was first nominated to run, I was not looking forward to it. This was my first year participating in this program, so how could I take on this big position?  But, every minute after I was nominated, I got more and more excited about the idea. 
My confidence started to rise as I prepared for my speech to convince the other media delegates that I was up for the job. The next day came, and it was time for my speech. 
I waited and waited through the general assembly with nerves all over my body. When it was time to go to our media meeting, I decided to push all those nerves away before my speech. I got through it, and the only thing I remember was this sense of pride. My mind blanked, and I do not remember even doing my speech, but I had this feeling that I did really well. 
Of course, the very last thing they did at the conference was announce who won their P.O. position. I had to wait the whole day, which felt like years to me. I didn't even know I could feel this excited about something so stressful. 
I took the rest of the day putting the finishing touches on my profile story and then posted it to the medium. I had finally finished what I worked so hard on the whole conference. Now all I could do was wait for the announcement. 
A couple hours later, it was finally time for the last general assembly and to hear if I got the job. To say I was a nervous wreck is an understatement. 
I think there's a certain point where you get so nervous; it blocks your mind. I was definitely experiencing this phenomenon. Everything that happened before the announcement was sort of a blur. 
When we finally got to the announcement, they started with my position I was gunning for. Thank goddess because if I waited any longer, I don't know what I would do. 
The current Editor in Chief made a little farewell speech first. Then, this happened.
"Your 2022 Editor in Chief is… Ella Cooper from George Rogers Clark High School!"
My hands flew to my mouth. I couldn't believe it. Was I hearing this right? Did I really just get a Presiding Officer position for the media? 
The nerves turned to excitement. My hands were shaking, and I had the biggest smile on my face. 
Not only was I a Presiding Officer, but I was also the very first one from GRC.
Whenever I attend the Y conferences, I always saw the P.O.s as godlike figures. They seemed so intelligent and large and in charge. If I saw one of them in passing, I would look away because I was too afraid to look them in the eye. And to think I was going to be one of these people next year is absolutely insane.
If you had told me on Sunday I would be a P.O., I would probably laugh in your face. The idea would have seemed so silly to me. Now, I can not wait for what is to come with my journey in the Y program.
My story is a perfect example of how getting involved in school organizations can positively impact your life. I never would've thought that something like this could become so close to my heart. 
It only took one day for my Y journey to turn upside down. And one day, I hope to use this experience to change the world.