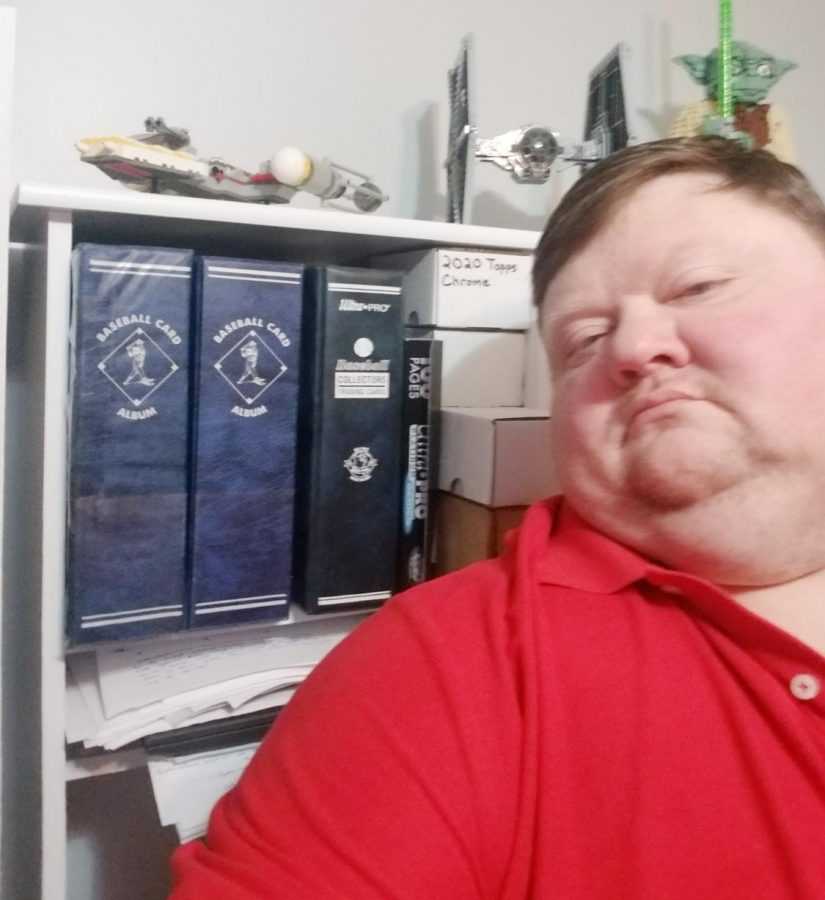 Photos submitted
Matt Dickison says there is no feeling like it.
The moment you hold in your very own hand a signed Johnny Bench, a vintage Joe Dimaggio or a game Hank Aaron card is the ultimate high.
For more than 30 years, Dickison, a GRC science teacher, has cherished such moments collecting and has enjoyed being a small part of baseball's history.
"There is nothing quite like the feeling of opening a pack of cards and pulling that 1 out of 25 card," Dickison says. "Knowing that there were only 25 of those cards printed and you have one of them."
With 250,000 cards and counting, Dickison has been collecting seriously since around 1987.
"The thing I like most about collecting is its capturing a part of history," he says. "The card represents a moment in time of a player's career either starting or ending."
After receiving cards for Christmas presents as a youngster, Dickison didn't become serious with the hobby until a bit later, and now his house is filled with collectors' treasures.
"I enjoy the chase of those rarer cards or signed cards that are now included in the production of card sets," he says.
Though tough to choose a favorite, Dickison said he loves his Johnny Bench autograph card and game cards from Ernie Banks and Joe Dimaggio. He recently purchased some older Hank Aaron cards.
Dickison has several high dollar value cards, including an older Nolan Ryan, older player game cards, and some autographed cards.
"I would say the Robin Yount rookie once I have it graded would be the most valuable," he says. "The George Brett rookie from the same year would also be very close as well."
Dickison has not yet had his collection appraised as he would like to continue building its value.
"I plan to have some cards graded that will increase the value should they get a high grade.  I also just recently purchased a 1975 Topps set that has some famous rookies and the cards are in extremely great shape for being 45 years old," he says. "I would expect a high grade on some of them."
After card manufacturers saturated the market in the late 80s and early 90s, card value diminished, but a new strategy has increased interest in the hobby.
"Supply was very, very high, people took care of what they had and it just about killed the hobby," explains Dickison. "Now, instead of producing millions of one set of about 700 cards, card manufacturers may release five to six sets with about 200 to 400 cards in the set, and added several rare variations to their cards. This has drawn people, like myself back into the hobby."
And having a hobby, he says, is healthy.
"It's good for the mind," he says. "It takes away from the everyday stress that we develop from jobs or studies. Being able to escape into the hobby, doing research on what you want to add, finding a piece of something you are missing to complete a set, or just finding that rare gem makes it worthwhile."
Collecting as a hobby might not be the thing for everyone, but for Dickison, the search for the right card is always on.
"I just purchased a 1975 set, and I knew the day it was coming," Dickison says. "The anxiousness when opening the box to look at those cards with my own eyes.  The feeling of holding them delicately in my hands as I didn't want to damage anything, wanting it as pristine as can be.  The nervousness of trying to get them out of the box carefully and not damage the edges as they are packed tightly for shipment across the country, and then the joy to actually hold that card and show it off to friends and family. The feeling is really indescribable."