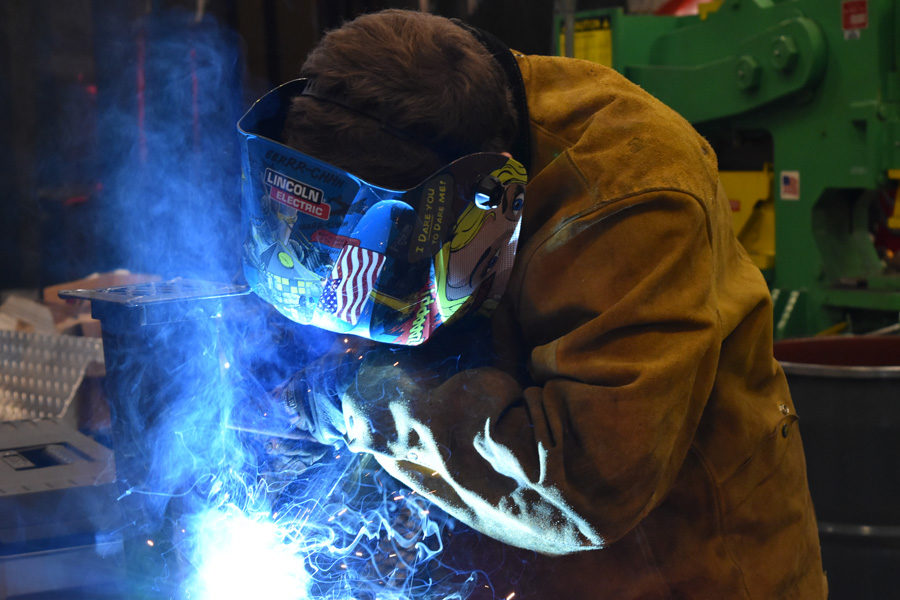 Kylie Harper
Sparks flew at GRC for senior welding student Austin Cartwright late last month. Cartwright placed first at the regional Skills USA welding competition and received a $3,000 scholarship.
"I got involved with welding when I took a tour of the ATC my 8th grade year," said Cartwright. "I found welding very interesting so I wanted to try it out. Throughout the years Mr. Hall saw that I had a talent in welding, so he brought me up in Skills USA."
Skills USA is a national association that helps students who are interested in a trade and technical skill prepare for a career after their education.
"Skills USA is an amazing organization and it has helped me out throughout my high school years," Cartwright said. "I would strongly recommend that many people get involved with it. It is not just a hands-on skills program."
In the competition, students are given a blueprint to read and interpret, then the students must weld the blueprint based on the symbols.
Through the ATC and Skills USA, Cartwright has found a passion for the skill. "My favorite thing about welding is that it is just you doing your job," he said. "The job doesn't depend on multiple people doing something. It all relies on you. So you have to be able to produce the very best of your abilities every time or you won't make it."
The benefits of Skills USA go beyond improving the students' welding skills.
"Being a part of skills USA has really allowed me to get to know all kinds of people that I wouldn't normally see as having the same interests as me," said Cartwright. "I have made many friends through the years being a part of Skills and I have made some memories that I'll never forget."
Cartwright also says he's experienced personal growth through the program. "With welding I have learned a lot of patience," he said. "To be able to lay down the best weld, you have to take your time with it. I've taken this trait outside the skill and I am much more patient with people and other activities I've been involved with."
Cartwright, along with seven other students, will head to the state this April where they will attempt to heat up the competition.